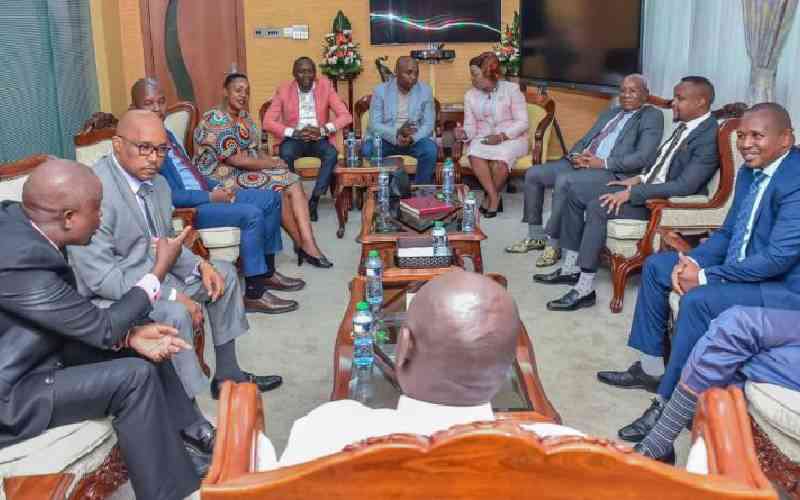 Deputy President Rigathi Gachagua has made his first step towards uniting Mt Kenya leaders after a divisive electioneering period.
In what was billed as the first of several meetings expected in the coming weeks, Gachagua met Gema leaders allied to Jubilee party, as he seeks to bring the region into the Kenya Kwanza fold.
Jubilee is among the key parties under the Raila Odinga-led Azimio la Umoja-One Kenya coalition.
The MPs who were hosted by the DP at his Harambee office on Friday were Kanini Kega (Eala), Sabina Chege (Nominated), David Kiaraho (Ol Karau), Irene Njoki (Bahati), Zachary Kwenya (Kinangop), Mark Mwenje (Embakasi West), Amos Mwago (Starehe), Dan Ritho (Igembe Central), Stanley Muthama (Lamu West) and Lamu Senator Joseph Thuku.
Leaders who attended the meeting said Gachagua had invited them for a unity of purpose agreement even as he sought the political goodwill of leaders from the region to tackle problems related to coffee, tea and other cash crops.
Gachagua reportedly asked the leaders to support his resolve to agitate for the region's interests regardless of their political affiliation saying the electioneering season is over and what the region wants is development.
Performed dismally
According to the leaders, it was Gachagua who had invited them they asked him to broaden his agenda to include other leaders who vied on the Jubilee ticket but failed to secure seats.
Nominated MP Sabina Chege said the leaders told the deputy president that their resolve to join Kenya Kwanza would depend on the administration's track record.
"It's too early for us to decide if we will cross over to Kenya Kwanza administration. They have performed dismally in their first 100 days but there is still time. Their performance will shape the political landscape in 2027," Chege, who is an Azimio coalition Council member, said.
She said the Jubilee leaders asked the deputy president about a number of issues including the decision by Nairobi's Governor Johnson Sakaja to remove passenger service vehicles from Central Business District.
"You can't issue licenses to people then revoke them the following day. Though we want order in our city, processes must be followed to ensure that our people don't suffer losses," she said.
"In the former administration, we had President Uhuru Kenyatta to look into the development of the region. It is now clear that Gachagua will be in charge of development. We are concerned that our people who were employed by the former regime are being fired and replaced by other people even before their terms expire."
Gachagua is said to have vowed to unite Mt Kenya leaders for the region to realise its development agenda and they also committed to be united when it comes to the issues of the region.
"Leaders from other regions often come together when confronted by an issue but that has not been the case to us, when duty calls, we promised each other to ditch our political stand for the sake of our people," added Chege maintaining that they were still in the Opposition.
Unity of purpose
Chege said that they were supportive of unity of purpose because they need to get over the bad blood existing in the region and singled out Meru and Kiambu where MCAs are at loggerheads with governors.
"Other regions are doing well in development while we are fighting. We want to unite so that we can realise development agenda but when a time comes for politics, we shall do it perfectly," she said.
Asked about the ambitions of Gachagua to succeed former President Uhuru Kenyatta as the region's kingpin, Chege said no one can bestow himself the kingpin title and that it's not the duty of elders but of the community.
"He must endear himself to the masses, sacrifice and remain committed to the community. It is the people who will recognise his efforts. Uhuru was made the kingpin while Kibaki was the president because of his efforts. Uhuru is still the region's kingpin," said Chege.
Kega said the leaders discussed the unity of purpose and how Jubilee would support UDA leaders in government to lobby for development in the region.
Strongly in Opposition
The Eala MP said the meeting saw the leaders forgive each other following a heated exchange of words between Mt Kenya leaders during the campaign period.
He said it was the deputy president who apologised first and the leaders also apologised to him.
"We agreed that our region will never be divided as it was during last year's General Election. Our aim was to form a government to help our people and it was Kenya Kwanza's goal too. Since we did not make it, we shall help this administration achieve its mandate," Kega said.
On whether the Jubilee leaders would join the Kenya Kwanza administration, Kega said they will cross the bridge when they get there but insisted the region has always benefitted when it is in the government.
"It's too early to tell. Jubilee is a party within the Azimio coalition and we are strongly in the Opposition, but where our people are benefiting we shall support faithfully," he said and added that they will only support Kenya Kwanza administration's good policies.
Related Topics