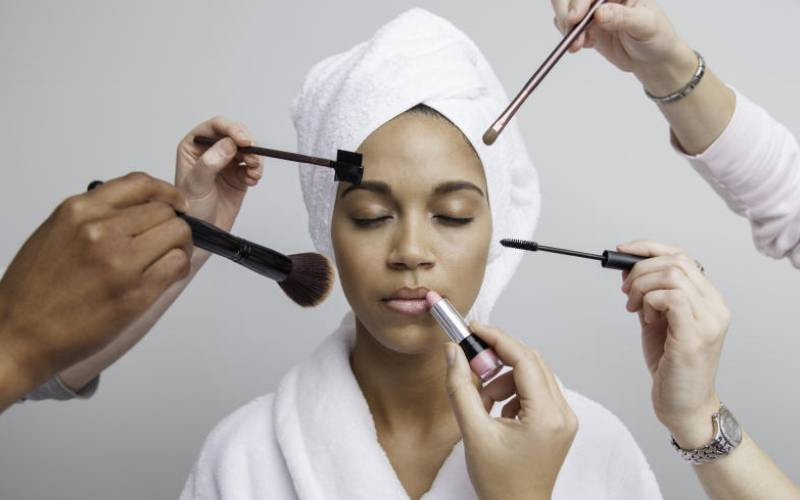 There is nothing more embarrassing for a woman than walking in town with messed up make-up. Rains do mess up make-up.
Studies show that make-up does not like wet and humid conditions. Rains do present these "undesirable" conditions to the makeup.
Beauty and style journal herzindagi.com says humidity can quickly ruin one's look by smudging lip colour, ruining mascara and leaving the skin patchy.
To avoid having a bad make-up day, the journal recommends that users should apply waterproof make-up products since they contain ingredients like fats, waxes, and silicon, which do not allow the make-up to get wet and become runny.
Ruth Kinuthia, a make-up artist in Nairobi, says water-resistant make-up is expensive but worth it.
According to her, the minimum a user can spend on quality, water-resistant make-up is Sh4,000. The cheaper equivalent goes for as low as Sh500 in some shops.
"If you cannot afford the expensive make-up, you'd rather not do make-up on a rainy day. Cheap make-up gets easily ruined by water. It can't endure the chemical elements of water," said Kinuthia.
As it continues to rain heavily in most parts of Kenya, is it possible for someone to still do her make-up without the beauty product wearing out under rainwater?
Kinuthia says it is possible, but requires a slight change of tack while applying the makeup.
She says choosing the right moisturiser and skin-friendly products is the beginning of having a good make-up day under wet and humid conditions.
"Don't do multiple layers of foundations during the rainy season. First, set the foundation using compact powder to help seal the pores. Also avoid mascara, as it has the tendency of wearing out under watery conditions," said Ruth Kinuthia.
There is water-proof mascaras, but they cost an arm and a leg for an average make-up user.
Kinuthia also advises users against applying cream highlighters during the wet season.
A highlighter is a make-up product that reflects light. It is used on the highest points of the face and areas that you would want to stand out more, such as cheekbones and brow bone.
In place of the cream highlighter, users are advised to go for powder options, which can withstand the vagaries of the rain.
At the same time, make-up users are urged against using the lip tint to nourish the lips and get a dash of colour. Instead, one is advised to use a frosted sheen or glimmer.
During the rainy season, users of make-up are also discouraged from applying lip gloss or cream-based lipstick since they smear easily and rip off under water.
Eyeliners and powder eye shadow are the other casualties of rainy weather. They tend to fade quickly under water. Instead, one can use a concealer to achieve gorgeous gloss eyelids.
"Don't touch" is another important principle for make-up users on rainy days. What ruins your makeup isn't water alone, but a combination of water and pressure from wiping your face. If your face gets wet, do not wipe, but remove the excess water carefully and gently.
It is highly advisable that a user sprays her make-up upon dolling up. This would help the make-up to last longer and endure under harsh watery conditions.
In case of a messed up make-up day, Kinuthia advises users to carry with them some facial tissues.
"The facial tissue and compact powder would help to refresh the skin and make-up when you find yourself in a messy situation. When correcting make-up mess, gently press on the skin instead of wiping off the affected area," she advised.
Related Topics