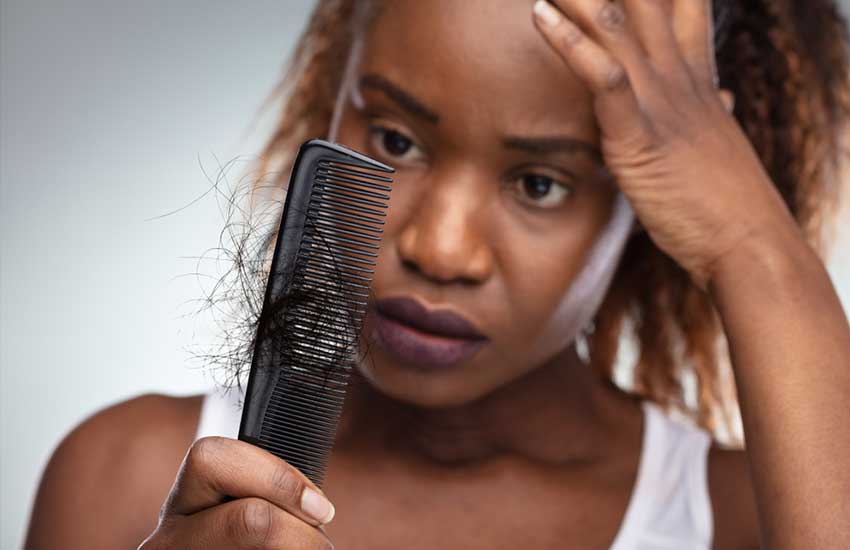 ALSO READ: How to easily wash braided hair while at home
Hair loss can be brought on by medical conditions, or self-induced. Whatever the cause, four professionals share tips on how to avoid premature hair loss.
Kinyua Tarah, Hairdresser, Methods Hair Salon
If planning on relaxing your hair, consult a professional trained hair dresser. He or she is knowledgeable on the correct application and timing procedures, thereby minimizing chances of scalp/hair damage.
When blow-drying hair, 'do not put a lot of heat.' Instead, set the dryer to moderate heat to prevent burning or breakage.
Avoid hairstyling practices that pull tightly.
Condition your hair often to maintain its elasticity and good form.
Christine Gitau, Trichologist, HairHub: The Trichologist Centre
ALSO READ: Five reasons why you need to use rice water more often
Only color the hair that has already grown from the root, or you will be over processing it.
Deter from keeping braids, weaves and cornrows for too long. Aim to 'undo them after 3 weeks, then let the hair rest for 2 to 3 weeks', before having them done again.
Avoid putting on tight headdresses
Dr Saroop Singh Bansil, Dermatologist, Laser & Aesthetic Centre Upper Hill Medical Centre
Refrain from braiding young children, if you do not plan on taking care of the plaited hair.
Do not comb hair frequently.
Seek medical advice, if experiencing hair loss.
ALSO READ: Six fruits that will help you prevent hair fall
Dorcas Gichuhi, Dietician/Nutritionist, The Nairobi Hospital
Consume a balance diet, as it boosts the body's immunity, enabling it to protect against disease.
For More of This Stories Subscribe to the Standard Epaper to get a copy of Eve Woman in the Standard
Be aware of your 'stages of hair growth.' This allows you to discern between normal and abnormal growth patterns, and seek out medical counsel if need be.
Vegetarians shunning animal products, must frequently consume soya beans, cereals, seeds and quinoa, for they 'do not have enough essential amino acids, key to growing hair.'
Above all, seek medical advice if experiencing hair loss.
Do not miss out on the latest news. Join the Eve Digital Telegram channel HERE.