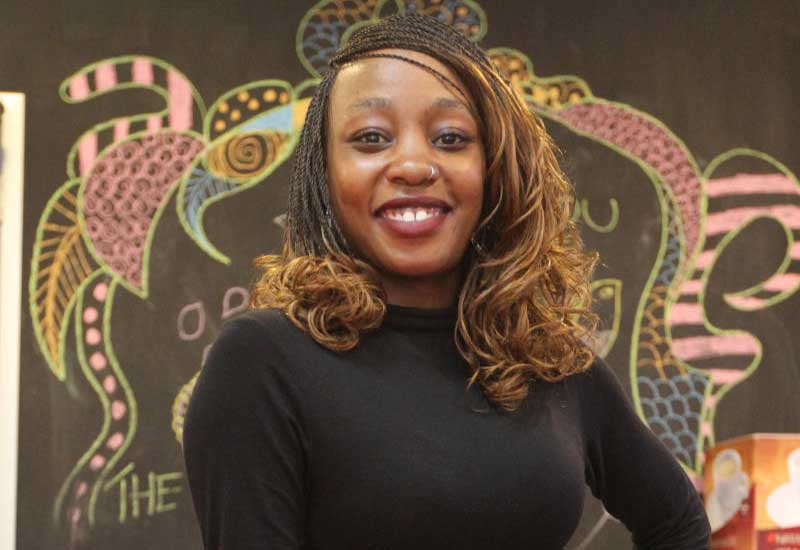 As she walked through the alleys of Majengo slums, Moesha Kibibi Tajiri kept hoping someone would stop her and buy her last few rolls of groundnuts.
Her throat was parched from calling out to strangers all day. Her feet hurt so bad from walking all day in Gikomba, Pumwani, Bahati, and its environs. She looked at the remaining groundnuts in the plastic container she held. They were carefully wrapped in cones made from sheets of printed paper.
In her other hand was the money she had made that day selling the groundnuts. A few coins and a single note.
She thought about the things she had to buy on her way home. More groundnuts to sell tomorrow, charcoal for the jiko where she would roast them and a meal to put in her rumbling stomach. The money was not enough.
As she walked through the dirty, narrow alley towards the tiny one-roomed house she had recently rented, she realised there were people sitting on her doorstep. She recognised them as the girls who had been her companions on those terrible nights she had spent on the streets.
They ran up to her and hugged her tight. She knew she had nothing much to offer them but she couldn't turn them away. She knew exactly how they felt.
The second born of four siblings, Moesha, 23, had lived with her parents in Majengo.
"We were a happy family. My parents managed to make ends meet," Moesha says adding that her parents both ran businesses -- her mum sold viazi karai and her dad was a shoe shiner.
In school, Moesha had discovered her passion for dance and participated in the annual school drama and music festivals. Her parents understood her passion and they encouraged her. Later, she went on to win several renowned dance competitions including Malta Guinness Street Dance and Can You Dance competitions.
But then tragedy struck. "I had just turned 13. I lost my mum to TB. Within the same year, my dad ailed for a short time and passed away," she says.
Given the fact that they were not familiar with any of her dad's kin, the children were taken in by their mum's relatives who lived in the same locale.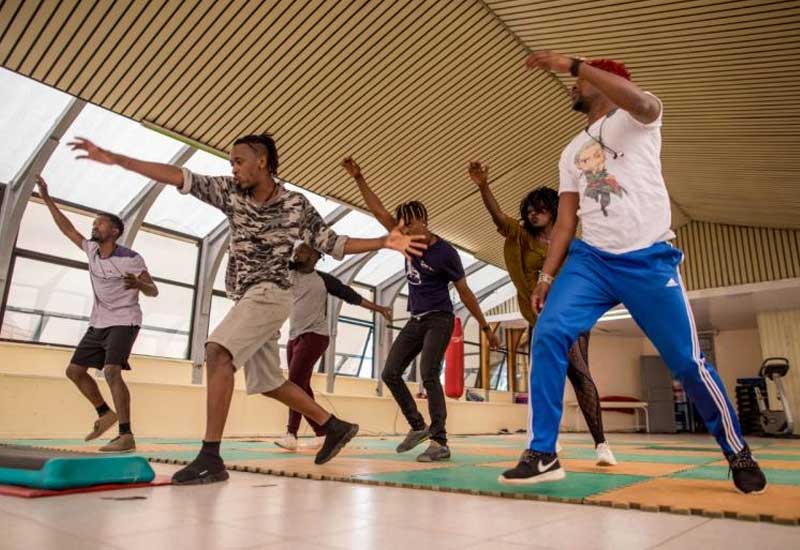 Moesha was grateful to have a roof over her head but she missed her parents terribly. To cope with the pain, she turned to dance.
"I didn't give up my passion. In fact, now I was even more determined and I started participating in profitable competitions as I continued with the annual school festivals," she confesses, adding that dance was like a silver lining on her dark cloud.
But her guardians were strict Muslims and were not comfortable with her hobby. After warning her against dancing several times, they decided it was time she left their home.
Homeless and living on the streets, she starting hawking groundnuts to survive. "That was the only profitable business I could think of at that time. It wasn't easy. Still, I only made enough to buy food, water, and sanitary towels," she reveals. "My first period came when I was on the streets. I had to tie pieces of lesos as napkins as I didn't even have underwear to hold the pads," she says.
At night, Moesha would sleep in the area around Pumwani Social Hall and she found herself becoming an easy target for paedophiles -- she was nearly raped on four occasions.
"I am forever grateful to the Good Samaritans who saved me each time," she says.
For More of This Stories Subscribe to the Standard Epaper to get a copy of Eve Woman in the Standard
With time, Moesha found a cheap room to rent in Majengo slums. It was a 10 by 10, a mud-walled house measuring 10 square feet that cost Sh500 a month. But Moesha couldn't leave her friends behind -- the other homeless teenage girls she had endured life on the streets with. So she took them in -- all 10 of them.
"The house was tiny. Some girls had babies but we still appreciated it. We would put our money together and buy food," Moesha says.
Although life was a little better for Moesha and her friends, life in the slum caught up with some of them again. Over time, Moesha took in more girls but she kept losing them to the vices in the slum. According to Moesha, some girls took up prostitution while some got hooked to drugs and alcohol. And when they couldn't take it anymore, some committed suicide.
Looking at the strong woman that Moesha has now turned out to be, it's hard to guess that she has been through all this hardship. It is only when she talks about her difficult past that one can understand why she sacrifices a lot to help other teenagers facing the same predicament.
"Dance kept me alive and safe. That is how I survived. When I was not selling groundnuts, I would dance in various competitions. Later, some friends and I started a dance group, the FBI - Focus Beyond Imagination Dance Crew Kenya," she says.
Soon enough, the first edition of the Sakata Dance Battle hosted by KTN came beckoning, and her FBI crew decided to try their luck. The fact that they were all from Majengo slum provided an unbreakable bond.
Fortunately, the group emerged as the second runners up in the 2009 competition.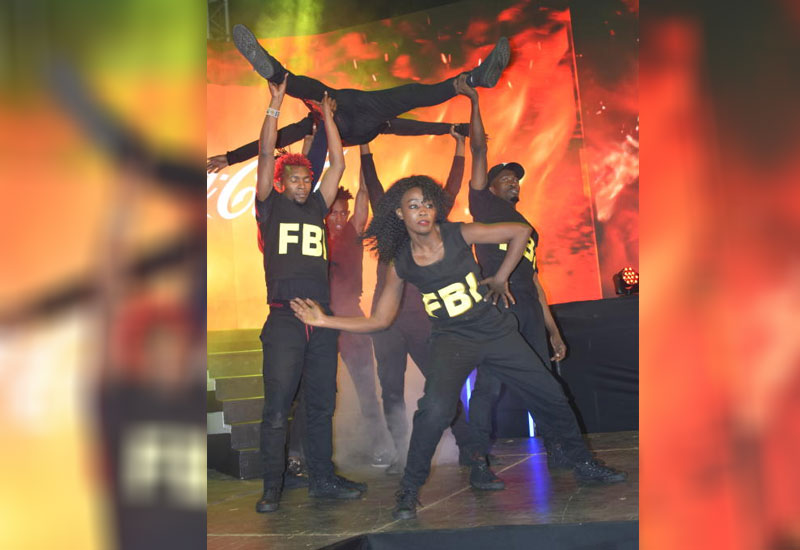 "Although we had higher expectations, we were really grateful for the exposure," says Moesha. The group was awarded Sh. 250,000, which they shared equally, then saved the rest for a rainy day.
This cash enabled Moesha to enroll at Our Lady of Mercy High School in Shauri Moyo to continue with her pending education. Her philanthropic nature steered her to pay tuition fees for four other girls who were her roommates and attended the same institution.
"I would still sell my groundnuts, go to school and attend dance practice. At the end of the day I would be tired and happy, knowing that I was fulfilling my life's purpose," Moesha says.
Come 2011, Sakata Season 2 came calling again and, this time, FBI danced their hearts out and left nothing to chance. They emerged as the winners.
"We got a whopping Sh1 million. We couldn't believe it! My teachers were proud of me because I had put the school in a positive light," she says gleaming.
This money would also pay tuition fees for more girls and herself. Additionally, it motivated her to excel in dancing and education.
The victory kept FBI on the global dance map and other dance competitions from all over the world started requesting their presence.
"The first one was Faites Danser le Monde, which was held in France. We were the only African dance crew out of 17 countries and we ended up being awarded for our outstanding input," she says proudly.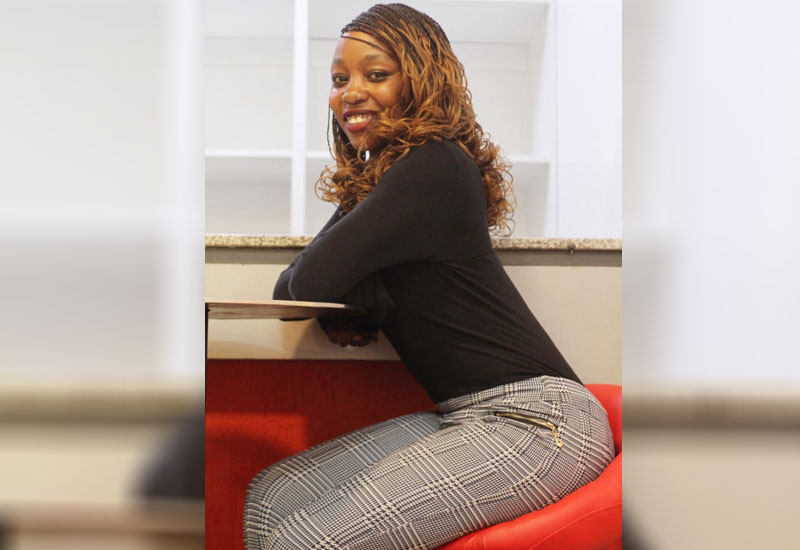 Back at home, Moesha moved into a bigger house in the Highrise area of Majengo.
In 2013, the FBI crew got an opportunity to dance regularly on The Churchill Show, a stand-up comedy TV show hosted by Daniel Ndambuki, aka Churchill. As the only female member, Moesha started being hailed as a dancing queen and many girls wanted to identify with her.
"Several of them sent me messages on social media asking for assistance and inspiration after they heard my story they learned about the dance group. This spurred me to form The Coming To Your Hood Initiative in 2015," she says. Under this initiative, she would travel to various neighbourhoods, meet teenagers, give inspiring talks and help them however she could.
Not long after the competition in France, FBI was invited to the World Hip Hop Dance Championship in the US. This time around, they faced 63 countries in the gruelling dance competition.
"This was one of the largest contests in the world! It had been on our radar for a long time and we never anticipated that we would one day be invited to participate. It was a dream come true," Moesha says.
Moesha becomes emotional when she narrates the whole journey and how the group ended up winning the Best Cultural Art award in the 2015 competition. Their winning streak in the renowned dance contest didn't end there as they won the same award in 2016 during the same event.
Unfortunately, they were recalled to participate in 2017 but they missed the event because of the general elections in the country. However, they attended it once again in 2018 and emerged winners in the cultural art category once again.
Eventually, Moesha formed Divas Power Initiative which she combined with Coming to Your Hood. "Divas Power Initiative made a bigger impact because it was touching girls from all over the country as opposed to the other initiative," she beams.
Her estranged family had also started coming around and they wanted to be associated with her. "I couldn't turn them down, even after everything they did to me. I chose to forgive them because they made me strong and independent at a young age," she says reflectively.
"However, my elder brother got involved in crime to the point where he was wanted by the authorities. To date I don't know where he went," she says, disappointed. "Nonetheless, my younger brother and sister are still in school and I support them fully and encourage them constantly."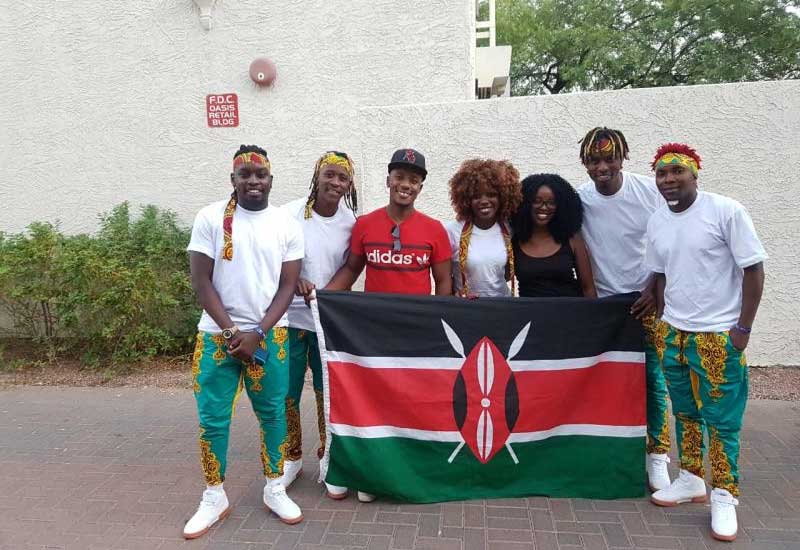 Dream come true
In 2018, Moesha got an idea to hold a dance competition for girls from the Divas Power Initiative.
"Most of them aspire to become professional dancers but we couldn't absorb them in FBI so I began training them on the concept of competition. It was exciting but I didn't have any sponsors," Moesha narrates.
This is when she decided to approach Yaden East Africa who provided the Liberty Hall in Pangani as a venue. She also talked to Leonard Kitili, the CEO of Laugh Industry, which produces Churchill Show, and told him what she had been up to.
"Mr Kitili was really impressed and, without batting an eyelid, agreed to do the production and set up of the event," Moesha says. The competition was held on December 8 last year.
Although she intended to raise Sh350,000, she was only able to get Sh56,000. When she and the rest of the FBI crew went to the set of Churchill Show for the Jamhuri Day recording, they were in for a big surprise.
"After dancing, I was called back on stage. I was surprised to see a presentation of my girls talking on the screen. I literally cried tears of joy," she says, tearing up again as she narrates how she was recognised as a Shujaa, a hero, during the show.
To top it all, Nana Gecaga, the CEO of Kenyatta International Convention Centre, pledged Sh100,000 to the Divas Power Initiative.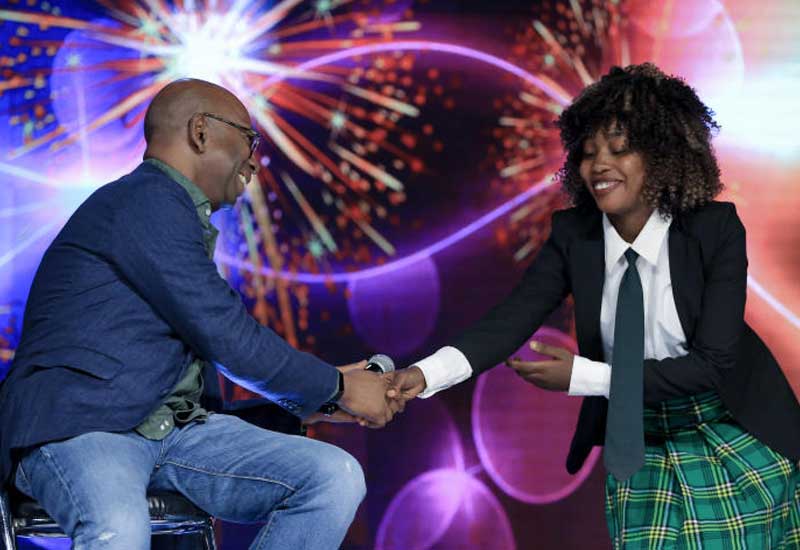 Soon, other people jumped in to donate money and by the end of the show, the pledges had reached Sh1.2 million.
"When one lady suggested that the audience contributes cash, everyone agreed. I almost fainted on stage. I was happy and emotional. It is then that I believed everything is possible when you work hard in this life," says an emotional Moesha.
She adds: "I will always be grateful to this lady. I wish I could meet her and thank her profusely." By the end of the show, the initiative raised another Sh136,000 in cash.
During this New Year's Eve show, she was equally surprised.
"This time I was summoned on stage. I didn't know what was happening," she says, adding that when Safaricom CEO Bob Collymore also joined her on stage, she had no idea what Churchill was about to utter next.
"I was astonished when Churchill asked me what I wanted to tell Mr Collymore. I just asked him to help my girls. I couldn't believe it when he offered to give 18 of them full scholarships for five years since Safaricom was celebrating 18 years. I just found myself on the floor and I couldn't get back up again. My heart was racing. My ears were ringing. I was sweating all over. It felt like I was dreaming until I was supported back up and I shook Mr Collymore's hand and that's when reality hit me," she narrates.
"Currently, the Divas Power Initiative is supporting around 2,500 girls from all over Kenya. I travel as far as Moyale, Kilifi, Kisumu, and other far-flung areas just to ensure the destitute girls are thriving. I also have to ensure they are genuinely in need and they are not just trying to get free money," Moesha says.
Some of the girls that Moesha started supporting are pursuing degree courses in the US. One is studying Medicine and two of them are studying Mass Communication.
Moesha says, unfortunately, various people have taken advantage of the poverty of the girls she assists. Some formed crowdfunding initiatives just to fleece money from innocent people using the initiative's name but they never contributed even a cent.
"Someone went as far as asking for funding from the UN and by the time I found out, they had already been given some money and had run away," Moesha laments.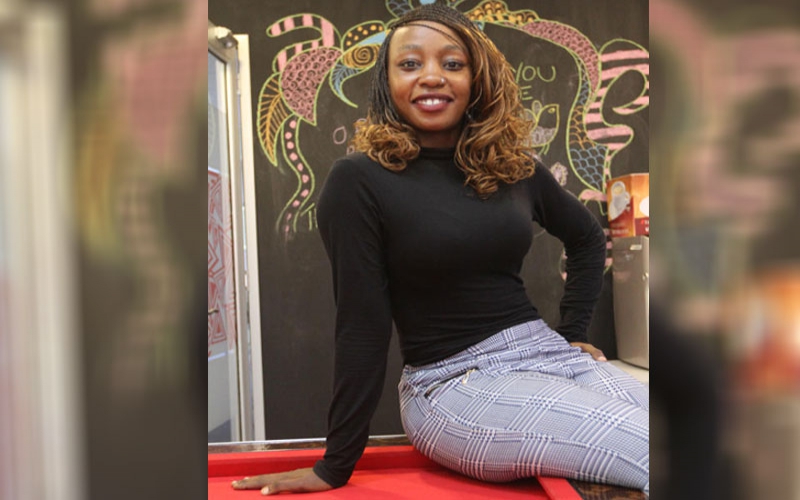 Behind the scenes
Moesha says when she isn't dancing or mentoring girls, she enjoys cooking, singing, going to the movies, and spending time at various children's homes.
Her typical day starts at 6am when she goes jogging. Then she attends dance practice until 12pm.
Moesha confesses that she hasn't had time for dating as she dedicates her entire free time to the girls.
Even as she says this, a dark cloud crosses her brow, "Don't get me wrong but the rape attempts, put me off men completely. When I think about how most of my friends ended up as teenage mothers or hooked to drugs or alcohol because of men also broke my heart. I had vowed to never get married," she says.
"But I have since come to terms with the past. I am no longer bitter with men but I don't see marriage in my future. I am content with being single," she says.
In the afternoon, she mentors various girls in different locations in Nairobi.
"At times, I end up spending the whole day with them and I return home when I'm exhausted but fulfilled," she reveals. "There are days when I'm so broke that I forfeit luxuries such as three meals, a phone or even furniture just to make sure the girls flourish," Moesha says.
The sky is the limit for her as she plans to help the initiative go global. "I don't think that I will ever get tired of dancing, but at some point, I would love to study mass communication," she says smiling. "I will use my journalism skills for inspirational work. My role models include Oprah Winfrey and Christiane Amanpour so I would like to follow in their footsteps," she says.
Do not miss out on the latest news. Join the Eve Digital Telegram channel HERE.
The views and opinions expressed here are those of the author and do not necessarily reflect the official policy or position of Evewoman.co.ke