Christine Koech
ALSO READ: Ciara opens up about being pregnant during a pandemic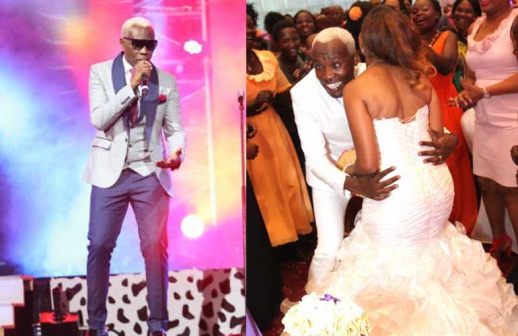 Even after walking down the aisle a few months ago, Daddy Owen hasn't slowed down, he has been out and about doing what he does best. We had a chat with him and Yes, you'll wait longer for a Daddy Owen junior news.
How is family life?
I am enjoying every minute.
Any children on the way?
No. We have no plans to get a child now!
Why? is there a problem?( I tease him)
Noo, there is no problem I just want us to enjoy our life before we start a family. See, when kids come the focus shifts now I still have the luxury of spoiling my wife and her spoiling me too. (Sips a Fanta Black Currant visibly stuffed. Wise words from a young man who burst into the lime light by stealing his brother's thunder and has not left since. )
ALSO READ: Celebrities who have opened up about endometriosis
Tell me all about Malaika Tribute Awards
Next week is International Disability Day and I'm organizing the fourth edition of Malaika Tribute awards. I am so passionate about this, if for nothing else this is where my heart is, I do this event annually with all my heart and soul.
It is common knowledge that people with disabilities need health care and health programmes for the same reasons anyone else does—to stay well, active, and a part of the community.
Why are you this passionate?
Having a disability does not mean a person is not healthy or that he or she cannot be healthy and productive. I know this first hand because I don't have sight on one eye. My wife knows she always has to walk on my left or I won't see her!
My journey began when I teamed up with Denno to produce 'Mbona' (the song that not only brought his condition to the fore but also earned him a KISIMA award and Sh2,000,000.
'Mbona' was the biggest song that year). Mbona was the launching pad I needed for these awards. I never meant to have a competition but a recognition platform where persons with disabilities are encouraged not to lie low and wait for handouts but rather use what they have to make do and even excel beyond expectations.
ALSO READ: Baby on board: Grace Msalame announces pregnancy
But the journey has not been without hiccups. The biggest one was when a story about Denno broke out and shade was thrown between Owen and up and rising star Bahati who also featured Denno in a hit single, 'story yangu' insinuating that Denno was suffering in the hands of exploiters.
What really happened between you and Bahati?
(Calmly) People with disabilities can be at higher risk for injuries and abuse. It is important for parents and other family members to teach their loved one how to stay safe and what to do if they feel threatened or have been hurt in any way. When I woke up that day and read the blogs, I was disheartened, we were in the process of organizing another Malaika Tribute Awards and some corporates shied away as a result.
But what exactly was the beef?
I reckon not everyone is honest in this ministry, but I have moved on past that unfortunate incident and in fact Bahati and Denno are starring next week at this edition.
Really? No more beef?
I am a man of God and those are my brothers I have put together a unique show that will run for three days at the Kenyatta International Convention Centre. The concert is Dubbed Daddy Owen Live and will in part be celebrating my 15 years in the music industry.
Which part is for the disability day specifically?
The disability walk and awards will open the show on 3rd followed by a live lingala/kapungala serenade and will close with a family show Sunday featuring Size 8 and DJ Mo. Mercy Masika will also be in the house.
Even as he is upbeat about all the arrangements, Owen's only disappointment is that some people still compare disabilities.
I have sat in meetings where people say I am better off because I have sight on one eye and that I can't compare myself with a totally blind man. Others say a deaf person is better than a deaf and dumb others say one leg is better than both etc'. It is utter nonsense every disabled person is challenged and I personally want then to accept, acknowledge and rise above it no matter what it is.
So why a three-day affair?
Owen: Because many artistes forget to connect with their fans, I am who I am today because of my fans and when I put them first then I now I am on the right track...I need to always remember why I do what I do and it is for the fans, this concert is theirs to connect with me.
How does he do it on stage?
Perform seamlessly that is...
I have learned to listen more; I know when I can't see on one side that if I listened I will get the vibration and still deliver.