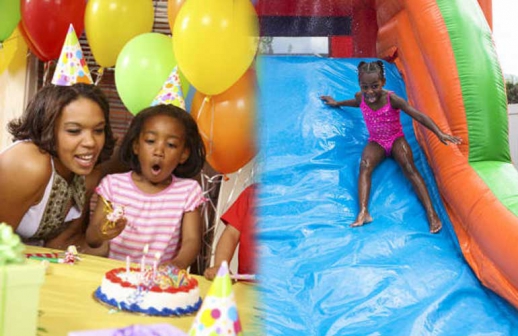 The holidays are almost here and with it comes an opportunity to celebrate birthdays and graduations and any other good reason to throw a party. How do you create a decor ambiance that captures a celebratory mood for the one being celebrated as well at those celebrating?
ALSO READ: How kids are 'ruining' your romantic relationship
Think about your audience
Rather than plan a party of your own preference, think about the primary participants of the party and work around a theme that would please that audience. If the party is for a three-year-old, then you will need to incorporate plenty of color, noise and movement.
Use 3D decorations to create dimension in the décor such as balloons; create movement with tools such as a bouncing castle, water slides or swings.
Provide visual interest on walls or door entrant such as a 'HAPPY BIRTHDAY' garland.
If you have a gate and a driveway, create party anticipation from the gate to the driveway right to where the party will be.
Themed parties
If working around a theme such as princess theme, superman theme or a farm animal party, stick to two or three colors around the character theme you are working with. Reinforce the theme by having a table centre piece within your theme.
ALSO READ: Mum praised after sharing 'perfect idea' for parents whose children wet the bed
Arrange your food and drinks around the centerpiece while taking into consideration that the formation of the food needs to be age-appropriate and if possible, in line with your theme. Cookies for toddlers can take the shapes they are familiar with such as squares, triangles, circles and rectangles and decorated with various colors.
Use disposable plates, cups and cutlery within your theme to create uniformity and harmony. A variety of character themes are available in the supermarkets and for hire from party and event organizers. Add party hats and whistles to create some noise and you will soon have your party going.
Souvenirs
Create such a buzz in your guest's' mind that they remember the party for a long time. To prolong the memory of the party, it helps to give the party guests some souvenirs or favors.
If organizing a children's party, consider including giveaway gifts such as stationery bags with pencils, crayons plus activity books such as sketch books, coloring books and paint boxes to keep them busy during the holidays.
Planning ahead is crucial if you are to optimize your chances of enjoying the party. Put up your hangings and wall decorative pieces up ahead of the party time and share the workload with other members of the household which builds a team spirit and a sense of ownership.
Starting early can give you more opportunities to make DIY homemade decorations and hence create a memorable fun-filled party.
ALSO READ: Five books on motherhood and parenting you should read
Do not miss out on the latest news. Join the Eve Digital Telegram channel HERE.
The views and opinions expressed here are those of the author and do not necessarily reflect the official policy or position of Evewoman.co.ke