Tony Mochama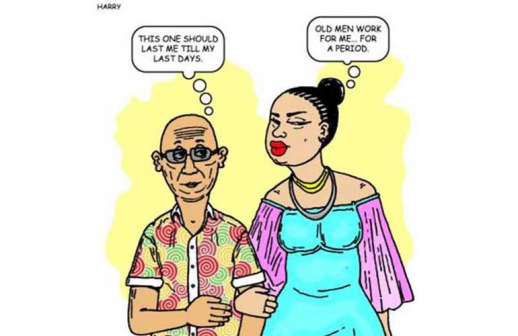 'Some boys kiss me, some boys hug me,
I think they're okay.
If they don't give me proper credit
I just walk away.'
Recognize those words?
They are a blast from the past – sang by Madonna 22 years ago – but just as applicable in 2016.
Today, let us be honest with one another, home boys. Women in this nation are as materialistic these days than at any other time since our Independence. I have been hearing a lot of tales about 'Ben Ten,' some spread by rumor-mongers like my pesky neighbor, Beryl the Wanga, upstairs. It really does not matter how good your 'A' game is – in the long run, a man will find that, with most femmes, it all comes down to the money.
'They can beg and they can plead, but they don't see the light.
Coz the Boy with the cold hard cash, is always Mr. Right.'
That's verse two of Madonna's song, and she is right.
Here's a true story.
When we were in First Year, this guy called Tosh was dating this young lady called Anita.
His best buddy, Lex, who had a loaded dad and a car in college (this was the era before 'paras', so cars on Campus were a HUGE deal), had his rich eye on Anita, and with less words and more wads, including an Easter holiday to Mombasa, he had soon 'sliced' the hapless Tosh – who threatened to commit suicide.
Luckily, Tosh was dissuaded from that (and is living a happy family life far removed from his puppy days with Anita that ended in near tragedy, with his plump body swinging from a Campus tree).
'Some boys romance, some boys slow dance, that's all right with me,
If they cannot raise my interest, I just let them be.'
What Madonna was saying is that nothing makes a woman perk up with interest than a fat pocket. Even the Bible in Proverbs says that 'a rich man's jokes are always funny.'
From the hair to the pedicure, from the salon to the saloon (where you better not talk about 'going Dutch' with the bill, kwani you think you are in Holland?), women are all about maintenance.
That is why you saw on TV the other day that it was the innocent Land Rover that took the damage from the scorned woman's stones, as her husband hid in his mistress's flat in Migori. That Land Rover represented money that is not reaching the proper woman's hands – and had to pay!
'Some boys try and some boys lie, but I don't let them play, only boys that save their pennies, make my rainy day.'
Boys, don't let those updates about 'ladies looking for blankets to fend off the cold of July' lie to you. The truth is this – few women wish to play with the pennies of a pauper (take that line as you will). 'Pamper' is the key word uppermost in the minds of most women, and the sooner you discover this, the better.
Women want to be pampered – and they want a man who provides that word – 'security.'
So if you are a Ben Ten who just wants to learn to move like Mick Jaguar, you better aim more to drive a Jaguar. Instead of spending all your time building your abs, better be the man who builds apartments; or at the very least, leases a nice one for her.
Because when you grow up, and are Ben Seventy, you will know that the sweetest word in the world for a woman is 'rrrrrrr.'
'Rrrrrrr' – onomatopoeic word for the sound of an ATM dispensing cash. Especially in Kikuyu Valley.