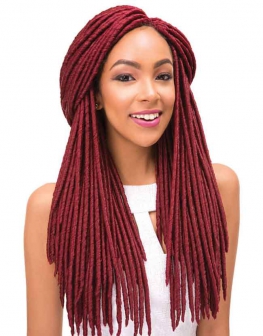 Traditional dreadlocks take years to grow but loc extensions take a few hours to achieve. Women can now experience dreadlocks without going through the lengthy locking process.
What's more, when you want to change the look, you don't have to cut your hair - you simply remove the extension and get another hairdo. Below are tips for the best overall experience from the time you wear the locs to removal time.
Preparation: Before you put any locs on your hair, ensure your hair is healthy. When you have loc extensions, it means your hair is completely covered for at least two months, leaving the hair vulnerable to matting, dryness, and breakage when you remove the extensions. Thoroughly cleanse your scalp and moisturize it to prevent any damage.
Installation: Loc extensions creation can take 6-12 hours depending on the length and density of your hair, size and length of the extensions, and the speed of your hairdresser. They are created by forming a base which is either a twist, a braid or both, depending on the texture of your hair. The final look of the loc extension is dependent on the type of hair used and how the hair is wrapped.
One can use synthetic or human hair locs though I recommend human hair as they are lighter. The weight determines how easy or difficult it is to style the locs. If it is heavy, it can cause hair loss due to tension and traction.
Maintenance: Loc extensions are easy to maintain. The style can last one to three months depending on maintenance. Every six to eight weeks, do a touch-up, which also involves taking out one or two rows and re-installing them. This reduces hair loss and damage that can happen with the manipulation of the extensions around your hairline, especially as they age.
Do not wear locs for more than eight weeks if you don't do touch up because as the hair grows, the extension gets heavier and the hairline becomes more susceptible to breakage. Once or twice a week, apply some light oil on the scalp and hair.
Heavy pomades, gels or cream conditioners are likely to embed in the loc, creating build-up and residue. If you want to shampoo your hair, have it done professionally. What's more, if any loc falls off, they can be repaired immediately. Ensure the locs are completely dry by sitting under a dryer for 30 to 60 minutes; this prevents mildew.
Removal: Let your hairdresser do it so that you don't accidentally cut your hair. There will be a considerable amount of dirt that has accumulated depending on how long you have had the extensions. The dirt creates a matted section of hair that requires professional attention.
Use a cleansing conditioner to eliminate excessive breakage and make the hair easier to detangle. If the hair is really matted, a tail comb will help in picking the matted section; do it slowly. Detangle each section of the hair as you remove the extension. Avoid shampooing the hair until the entire head is thoroughly detangled so that the hair does not matt some more.
Do not miss out on the latest news. Join the Eve Digital Telegram channel HERE.