WAINAINA NDUNG'U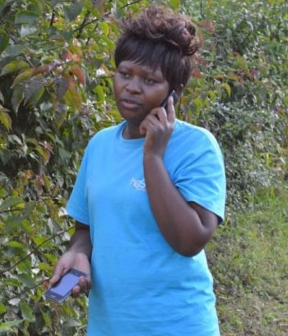 Transfixed and confused, Frida Makandi is trying hard to come to terms with her sudden misfortune. "I have lost three children, all my children. Nothing can describe our pain," said the tearful Ms Makandi.
The children died together with their two uncles on Sunday after the house they were sleeping in caught fire at Nchaure village, Meru County. Two brothers, James Muriuki, 20, and Boniface Kimaitha, 27, their nephews, Dickson Munene, 13, Denis Wamaitha, 7, and their two-year-old niece died in the 4am fire.
The family now suspects their relatives may have been wiped out by arsonists.
They ruled out cooking gas and electricity as the cause of the fire, pointing out that the owner of the house, Boniface Kimaita, had been targeted by unknown people who had even poisoned his cows twice.
Makandi said some unknown rivals had targeted Kimaita, who was an employee of the county government, in the last one year.
"On two instances, his cattle were targeted and were only saved by veterinary doctors. They were first poisoned and discovered by my mother while in another incident, someone deliberately tried to feed them a bunch of small nails," she said.
Makandi, who lives in Nairobi, spoke of the pain of losing five close relatives in one day, saying she wished whoever had issues with his brother could have chosen to solve them in a different way.
Makandi said she did not want to harbour many thoughts about what caused the fire that killed her children and brothers.
"The tears and cry for help that my children and brothers had before they succumbed to the blaze will haunt the culprit if this was an arson attack. We simply leave it to God," she said.
Makandi's oldest child was in Form One at Ngonyi Boys Secondary School, while the second one was in Standard One. Her last-born was only two years old and was yet to start school.
"We were four sisters and the two brothers. The brothers are no more as they died in the fire. We loved each other passionately," said Makandi, who was estranged from her 14-year marriage last December.
"We have lived a hard life with my youngest brother, who came to live with us and help me take care of the children, when I fell out with my husband last year," she said, adding: "In fact I only sent them here last week because life was getting too hard and my business was not doing very well."
BREAKING NEWS
She also narrated how she received the sad news of the tragedy. Makandi said when she received a phone call on Sunday at 9am on a business colleague's line, she could not have imagined the sad news that was about to be broken to her... that in one swoop, the children she had sacrificed so much for and her only two brothers were no more.
"On the other end was Gitonga Mugambi (Mt Kenya Red Cross Society regional manager), who broke the news and I immediately embarked on a journey home," she said.
The mystery of the fire deepened yesterday when relatives and neighbours interviewed at the home said they suspected the house was set on fire by arsonists.
Although some security officials have said the fire could have emanated from a meko gas cooker inside the house, the family and neighbours said the gas cylinder in the house had not been refilled for some weeks when Kimaita's wife left following a family disagreement.
Police said they were yet to get any lead as to what caused the fire.
Meru County Head of Criminal Investigations Joseph Koini said after recording statements from the more than five family members and other witnesses, no clear lead had emerged on whether the fire was an arson attack or an accident.
"It is true we took statements from the relatives and witnesses but we cannot say at this juncture what caused the fire. We probably will be able to say that for certain once we get the results of the samples we sent to the government chemist," he said.
"Had the gas caused the fire, it would have exploded but the burnt-out shell is intact as you can see," said a neighbour.
Relatives also said Kenya Power had also absolved itself from blame, saying its investigations had showed that systems and supply in the area did not have any outage.