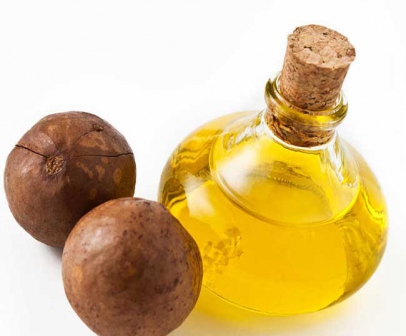 Macadamia nuts originated in Australia. They also grow in South Africa, Brazil, California, Costa Rica, Israel, Bolivia, New Zealand, Colombia, Guatemala, Malawi and here in Kenya. When you think of macadamia nuts, you think of an exotic delicacy. However, you could also think of silky hair full of body and shine.
Yes, adding a few drops of macadamia oil to your regular hair conditioner adds an extra boost of protection and transforms your tired hair.
Macadamia nuts are a rich in Vitamin A, E, iron, protein, thiamin, riboflavin, niacin and folates. They also contain a bit of zinc, copper, calcium, phosphorus, potassium and magnesium. Other healthy contents are antioxidants like polyphenols, amino acids, flavones and selenium. Macadamia is also a good source of carbohydrates like sucrose, fructose and glucose.
How exactly does macadamia nuts oil benefit your hair?
Prevents breakage: The proteins in macadamia oil strengthen hair and prevents hair breakage by penetrating the scalp and hair follicles thus improving its elasticity too.
Stops frizz: Macadamia oil eliminates frizzy hair, detangles hair, adds shine to the hair, and leaves hair silky and smooth. No woman likes rough, frizzy hair. Humid weather like that of Coast or Kisumu can make frizz even worse. The vitamin E softens, rejuvenates the hair and help to eliminate frizz by coating the hair shaft with nourishing oils.
The mono-unsaturated fats in macadamia oil protect the hair and scalp from damage. These essential fatty acids also protect the hair against UV rays, chemical damage and heat damage, which can seriously damage hair.
Moisturiser: Macadamia oil closely mimics sebum, the natural oil found in the scalp. The macadamia oil contains a high amount of palmitoleic acid (an omega 7 fatty acid) which is the main ingredient in sebum.
The oil, thus, supplies the hair with the sebum that it misses from insufficient production or damage. Using macadamia hair mask on a weekly basis, will offer you softer, more manageable, and hair full of life.
Drying time: Macadamia oil helps cut drying time thus you spend less time drying your hair and using heat tools. Apply the oil after you wash your hair and will quickly be absorbed by your hair and push the water out from under your cuticle.
This reduces drying time by almost 50 percent, minimising exposure to heat related hair damage.
• If you have thick, coarse hair, macadamia oil will soften it.
• It is a quick fix to split ends. Simply dab some oil on your fingers and work it through the ends of the hair as a leave-in conditioner.
• When stressed and you need a scalp massage, a little amount of heated macadamia oil will work wonders.
Thus for an intense hair treatment, macadamia hair mask is your best bet.