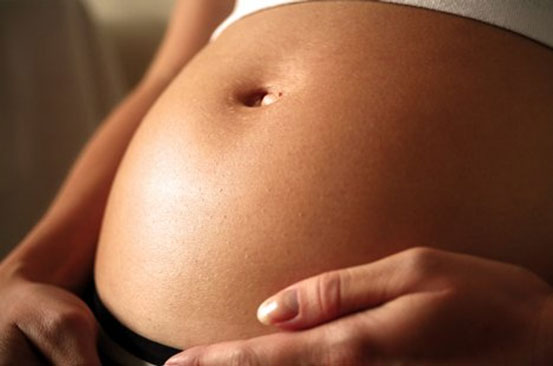 The advice from a postnatal consultant comes as a survey reveals 64% of women feel under pressure to get their pre-baby body back quickly
ALSO READ: Why you need to practice mindfulness during pregnancy
We're often bombarded by images of celebrity mums who have got back their washboard abs just months (or weeks) after giving birth.
For most of us, the reality is actually a bit of a squashy tummy that refuses to go away no matter how many times you do that Davina DVD in your lounge.
But do we accept our post-baby bodies for what they are? Or do these images of women who 'bounce back' into shape immediately affect our perception of what is normal and healthy?
A survey released by Kiddicare of over 2,000 new mums has revealed that 67% feel negative about their post-birth body.
Meanwhile, 64% of women say they experience pressure to 'bounce back' to their former shape shortly after giving birth.
But it's not all down to people in the public eye. 35% of mothers who did feel pressure admitted that it comes from themselves, with 29% blaming the media for featuring images of celebrity mothers quickly regaining their svelte figures.
Stomach and breasts are problem areas
ALSO READ: 'I'm trapped inside with my fiancé who I don't love anymore during lockdown'
New mums who felt self-conscious about their altered shape said the most noticeable changes were their stretched stomachs and breasts.
The most common exercises during pregnancy were walking (74%) and swimming (36%). The majority of respondents said that it took their bodies roughly 3-6 months after giving birth to feel ready to exercise again.
Almost half of respondents, at 49%, said that their biggest barrier to postnatal exercise was tiredness and lack of energy, with 36% saying they didn't have enough time to exercise.
In an attempt to encourage new mums not to dwell on those negative feelings and instead celebrate what their bodies have achieved - and still can achieve - Kiddicare spoke to pre and postnatal fitness consultant Margarita Bennett.
Margarita said: "Pregnant women are often not prepared for the dramatic changes to their bodies; no one really tells you what happens afterwards.
"You have a baby and think you will 'spring back' but it doesn't quite happen like that.
"You need to work towards it, it's taken nine months for your body to change and it's going to take about nine months, depending on what kind of birth you've had, to return back to a similar position."
ALSO READ: Five tips on how to sleep when pregnant
Kiddicare used feedback from new mums, who said there is not enough information about the changes a woman's body goes through during pregnancy, and have decided to launch a new hub on their website.
The brand-new 'Look After Yourself' section is now live on the site, with fitness and health advice for mothers.
For More of This Stories Subscribe to the Standard Epaper to get a copy of Eve Woman in the Standard
Do not miss out on the latest news. Join the Eve Digital Telegram channel HERE.