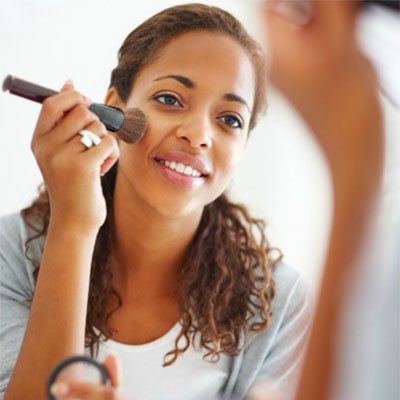 With all the beauty products out there, it's easy to make some make-up mistakes without even realising it. This year, keep yourself informed and minimise the beauty errors.
1. Sleeping in your make-up
We all know that this is bad, but occasionally you find yourself sleeping in make-up. Over time, this leads to breakouts, aging skin, and enlarged pores. Keep your face youthful and healthy by keeping it clean.
2. Lining only the edge of your lips
Blend the liner into your lips or forgo liner entirely. Having a prominent line around your lips is only acceptable for a 90's party.
3. Skipping base coat for your nails
Base coat protects your nails and acts as a primer for nail colour. This results in healthier nails and a longer lasting paint job.
4. Wearing too much foundation
We've all met someone who looks like they're wearing a mask of foundation. Unless you're hiding a scar, there's no reason to apply a thick coat of foundation to your entire face. Make-up should enhance your features, not mask them. Focus on trouble areas such as under your eyes, and the T-zone, and leave the rest of your skin looking fresh.
5. Applying blush incorrectly
Do not swirl two circles on your cheeks. Apply blush along your cheekbones while smiling and blend the colour in.
6. Keeping make-up for too long
Make-up expires within two years so throw it out. Using old make-up can cause breakouts or skin infections.
7. Not cleaning your make-up brushes
We're all guilty of this from time to time. Dirty brushes can make you break out and can affect your make-up application. Wash your brushes every week.
8. Matching foundation to the back of your hand
We've all done this even when our face and hands may not be the same colour. For a perfect match, test foundation on your jawline.
9. Putting bronzer on your whole face
Putting bronzer on your entire face may give your skin an unnatural hue. Bronzer should be applied lightly and sparingly to your cheekbones, nose, forehead, and chin.
10. Using the wrong foundation colour
Foundation is supposed to create a perfect smooth complexion and cover up imperfections. It is not intended to give you a tan or a ghostly appearance. Embrace your natural colouring and chose the correct shade.
11. Applying make-up on dry flaky skin
If you don't moisturise, foundation will only emphasise the flakes by sitting right on top of them. Always start with a smooth base by exfoliating and moisturising for a perfect finished look. Do this with lipstick as well.
12. Over plucking your eyebrows
Well groomed eyebrows frame your face and enhance your features. If you over pluck your eyebrows until they're too thin, they may never grow back, leaving you looking a little odd.


Do not miss out on the latest news. Join the Eve Digital Telegram channel HERE.