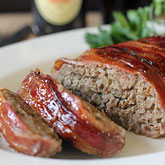 I am a meat lover and so is my family. One of our favourite dishes is meat loaf. You can use any kind of minced meat (not mutton). I sometimes use canned corned beef instead of pork and it always turns out super yummy.
ALSO READ: How to thaw meat and chicken safely
Serves 4/6
Prep Time: 10mins
Cook Time: 40/50mins
Ready In: 50/60mins
Equipment:
Bread baking tin
Ingredients:
Ø ¼ kg minced pork or corned beef
Ø ¼ kg minced beef
Ø 1 egg
Ø ½ a cup bread crumbs
Ø Salt and pepper to taste
Ø Salad oil (for greasing the baking tin)
Ø 1 medium size jar salsa sauce (available in any supermarket)
Ø ½ a cup grated cheddar cheese (optional)
Directions:
ALSO READ: Easy, hearty warm tomato soup
Pre heat your oven 1900C / Gas mark 5.
In a large bowl, mix all the ingredients excluding the salsa sauce to form a big ball.
Grease the baking tin then put the mince mixture into the tin (shape the mixture into a bread shape).
Pour a generous amount of salsa sauce on top and bake for 35/45 minutes or until baked through (to check the meat is cooked through, poke with a sharp knife; the knife should come out clear and dry).
Remove from the oven sprinkle the top with cheese if desired, return to the oven and bake for a further 5/10mins or until cheese is melted.
Remove from baking tin and serve on a platter with potato wedges and shredded mixed green salad.
For More of This Stories Subscribe to the Standard Epaper to get a copy of Eve Woman in the Standard
Do not miss out on the latest news. Join the Eve Digital Telegram channel HERE.