Wilberforce Okwiri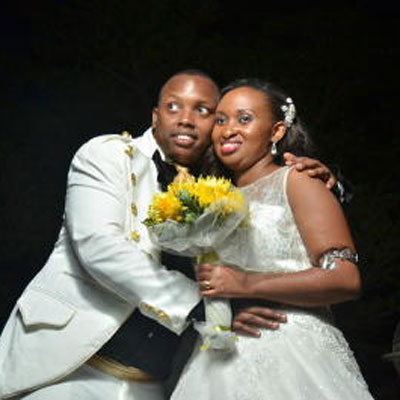 BRIDE: Anne Wandiri Kimani
GROOM: Roy Kiprono Tesot
DATE: September 27, 2014
GUESTS: 400
VENUE: Nairobi Academy - Karen
BUDGET: Sh600,000
FIRST DATE
Roy: It was in August 2004 in Kampala, Uganda. We happened to be in the same university.
One afternoon, My friend Nicholas and I were strolling round the campus looking for a suitable restaurant to have lunch. There was one famous restaurant on campus owned by Kenyans and popular for its mouth-watering dishes.
As we were looking for space to sit, we spotted two seats at a table where two beautiful ladies were seated. We asked if we could join them and they accepted. I had, however, spotted Anne from a distance. I told my friend we should join them so that I could get a chance to talk to her while he engaged her friend. We hit off the conversation and we enjoyed our lunch. We exchanged contacts with Anne and this was the beginning of our journey.
I had exams that week and a week later after we had met, I took Anne for dinner at a restaurant near the campus called Half London. I utilised the chance to know what kind of a person she is and what came out clearly is her loving, caring, focused, interesting and most of all God-fearing personality. Just what I ever wanted in a woman.
THE PROPOSAL
The proposal was on an ordinary week day (November 21, 2012). I remember I had a very bad day, when she welcomed me in and she quickly read my mood.
She offered me tea and later food without saying much and when we sat to eat, I realised I am not alone. Through all ups and downs, I have someone who had my back. So after eating, I called her to the sitting room as she was planning to go to bed. I gathered my courage and told her, "You are the only one who knows my adult life, all my strong and weak points.
I would not want to spend my life with anyone else other than you. Will you grow old with me?" There was pin-drop silence, when I looked deep in her eyes, she was balancing tears and after a short while she said, "I would love to grow old with you." From the silence, I was ready for anything but she said yes, I was a happy man!
The climax of the proposal was during her bridal shower that we secretly arranged with her friends. Our wedding plans were underway. On September 13, a Saturday, we had a birthday party and I insisted I had made reservation for our dinner that evening. She was all excited not knowing what was in store for her.
When the time came, on our way, I lied to her that I was going to pick some payment from a friend in a certain restaurant. Anyway, when I got back after supposedly meeting my friend, I insisted that she should go and say hello to her colleague.
When she went to the restaurant, she got the shock of her life. Her friends were all in there congratulating her. I took advantage of the situation and got on one knee and told her that I will never get tired of doing this, "will you marry me?" She said yes, and tears of joy rolled down her cheeks.
THE DRAMA
Due to the fact that we both live and work in Kampala, 90 per cent of the planning was by what I call 'remote control', which proved costly and cumbersome. We did not have cooperative relatives nor friends on the ground.
We had a challenge also with our maids. It was hard to get them at the same time since some of them are working while others were in school.
We had some drama with the suppliers, of course. Five months to the wedding, we had identified the caterer. Three weeks to the wedding, we came to Kenya and asked to attend one of the functions she was catering for in order to sample her food. After the sampling, we asked that a few adjustments be done for our wedding.
Two weeks prior to the wedding, she called us (we were back in Kampala) and said our standards were too high and she could not meet them, and she would refund our money. We must say this was a shocker with two weeks to go.
We immediately went back to square one of sourcing for a caterer. When we shared our predicament with our decorator, he was also in the catering business and decided to take up the job meeting all our requirements. We must say this was God's intervention.
We also visited the venue the day before the wedding and the setup had not been done. We panicked a bit because this meant the set up would be done the morning of the wedding and considering it was a garden wedding, everything would be done at the same venue.
The decorator was late in setting up and incidentally, the bride also came to church late, at 1pm, due to a heavy traffic jam.
IN HINDSIGHT
Some of the things we would have done differently are getting a team in Kenya to help. Planning from Kampala proved costly and challenging.
We would also have changed the timing for the event to start at 11am as opposed to 1pm as this pushed forward our photo session to night time.
Our advice to young couples planning to wed is to take their time in planning, that is start early enough, save for the function and above all, place all your plans in God's hands as He is the master planner. Listen to advice but do not take it all as you will end up getting confused. At the end of the day, it is what both of you want.
MEMORABLE MOMENTS
Our outfits were unique and we will forever remember this day. There was also a Kayamba Africa band that got the guests on their feet. Another unique aspect about our wedding was that we did our photo shoot at night.
For the honeymoon, we had initially thought of South Africa but changed later because Anne had been there. We decided to choose a neutral place that neither of us had been to.
We hence, settled for Dubai as we have heard lots about the shopping experience there, sky scrappers and definitely the tallest building in the world the Burj Khalifa. We wanted to experience this first hand and we must say the honeymoon was fantastic, the best time of our lives together. We really enjoyed it and we are thankful to God for giving us this chance.
PHOTOS AND INTERVIEW: WILBERFORCE OKWIRI