Peter Muiruri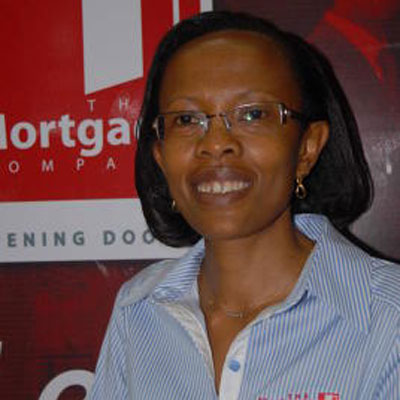 As she fits her slim frame elegantly into the black leather seat, her warm smile radiates across the room. Before we settle down for the interview, both her cell phone and iPad vibrate – almost simultaneously. They are interconnected. She loves technology but admits that it scares her sometimes.

But for Caroline Wangui Kariuki, the managing director of The Mortgage Company, the frightening future of technology is the least of her worries.

Over the last few years, she has led a spirited campaign to lobby for lower interest rates so that more people can afford the cost of borrowing for home ownership.

While it is the dream of every Kenyan to own a home, the statistics are disappointing.

Current estimates show that out of 40 million Kenyans, only 20 per cent own the houses they live in.

Mortgage loans stand at roughly 20,000 valued at a little over Sh120 billion.

On the other hand, Kenya's urban population is expected to peak at 70 per cent by 2050 requiring 300,000 homes annually.

Sadly, high construction costs coupled with the high interest rates charged on mortgages have conspired to make Kenyans perpetual renters.

To 46-year-old Caroline, these are not mere statistics. They present a grim picture of millions of people whose dreams of owning a home continue to diminish by the day.

"Every day I wake up and see the same mortgage portfolio, and I get angry," she tells me during the interview in her office at the Greenhouse, Adams Arcade. "Angry because in Singapore for example, home ownership is up to 95 per cent."

Where the problem lies

Caroline knows exactly where the shoe pinches, why money in Kenya is so expensive.

Using her portable device, she opens up some pie charts, graphs and other forms of data collected over the years.

They have to do with the wage structure of the employed, the earnings of those in small and medium enterprises, mortgage books at various banks – and many more.

"Look at this. A huge percentage of the employed earn less than Sh100,000. When will they ever qualify for a mortgage and own a house?" she asks.

"Suppose this person earns Sh100,000 and there is a house selling for Sh5 million. At an interest rate of 16 per cent, he will have to repay a monthly amount of Sh70,000. How will he survive?"

The formally employed in Kenya amount to 2.2 million while the bulk – 12 million – are self employed. It is the latter category that Caroline is rooting for.

She states that the country has no choice other than make a paradigm shift in the way mortgages are structured.

"The pay slip and its contents determine if you will own a house or not. That is very unfair to the millions in the informal sector with fluctuating earnings. There must be a way of harnessing their earnings through a mortgage tailored to their circumstances," she says.

According to Caroline, the Government as well as financial institutions fear the risks associated with this group, especially because cannot be assessed in terms of along term income.

This, she says, is a shallow way of looking at this category. There are precedents showing how the micro- finance sector has harnessed the small earnings in the informal sector to boost their financial base.

"If banks such as Equity have found ways of assessing the risks associated with banking the informal sector, surely they can come up with ingenious ways of financing the home market using the same principles," she says.

For mortgages to infiltrate the self employed, lenders have to change their home funding systems.

She says many financiers such as banks rely on short term deposits to fund long term projects such as home ownership.

Need for structure

"We need to structure the long term pension funds without putting them at risk and use the money to lend to the self employed. The Government can also come up with a guarantee scheme that will cushion lenders from the perceived risk from this group. In addition, the tax regime can be amended so that all mortgages are tax deductable so that Kenyans can see the benefits of mortgages as opposed to renting," she says.

Apart from reforming the financial sector, Caroline says we have to find ways of reducing the actual costs of construction so that home prices can come down to an affordable level.

She says the Government should set the pace by laying the infrastructure before developers commence construction, thereby reducing the overall costs by between 20-30 per cent.

"Lack of prerequisite infrastructure and the fact that we have no clear policy on home ownership, say for the next 30 years, continues to drag the sector," she says.

Her push for home ownership began when she was still a young girl growing up in the temperate climate of Githunguri, Kiambu County. She commuted daily to Muthaiga Primary School before enrolling at Alliance Girls for Form 1-4.

Privilege

Later on at Kenya High where she sat for her A-Levels exams, she had the privilege of rubbing shoulders with her favourite teacher, Ida Odinga, who taught geography.

In 1990, she graduated with a Bachelor of Commerce degree from the University of Nairobi before Trade Bank came calling for her first stint in the financial sector.

"All along, I had the dream of owning a home and since I had no money, my mother encouraged me to buy a plot for Sh17,000 through my savings from the university's personal expense funds that we called 'boom'.

After eight years, I sold it for Sh250,000 from which I paid the deposit for our future home. You can start small," she advises.
In 1998, she got a scholarship through the UK government for an MBA at Warwick University, leaving their firstborn child, Nyokabi, then a year and five months under the care of her husband.

Before setting up The Mortgage Company, Caroline had a three-year stint at Kenya Commercial Bank's mortgage section, S&L where she grew the mortgage book from Sh277 million to a billion.

Caroline says being a woman has never been an impediment in the pursuit of what she believes in, adding that women should get jobs or business opportunities on merit and not due to their gender.

Does she get tired of agitating for affordable housing for the masses? "If my 13-year-old son Ngare continues his daily prayers for our company to find cheap funding for mortgages, I believe the fight will be won."