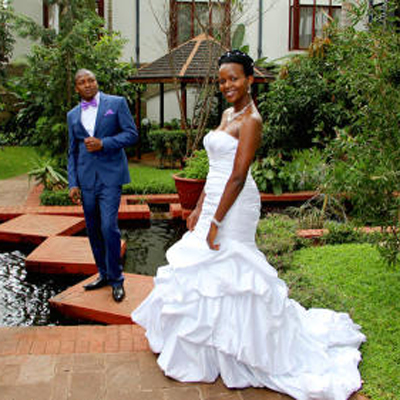 Groom: Meshack Kipng'etich
Bride: Aminah Mukuna
Wedding Date: August 30, 2014
Ceremony/ Reception: Loreto Convent, Valley Road
Photo shoot: Fairmont The Norfolk Hotel
Budget: Sh700,000
Guests: 300
PHOTOS: COURTESY
FIRST DATE
Amina: We met at a friend's wedding. I was among the drivers ferrying the bridal team and he was a grooms-man. At the wedding venue, we both headed for the décor table. It was there that he noticed the bride's bouquet and asked; 'If you were the bride, would you carry this?' I thought to myself that I would not as it looked sloppily done and went down to work on it, making it more presentable.
Meshack: Later, a bird made its dropping on my suit, and she was the one who gently wiped it off. That action made me realise she was the one I wanted to spend the rest of my life with and I said a silent prayer to God asking that it may be so. We later took our first photo together during the photo session. Two weeks later, we went out for Pizza and from that day on, not one day passes without us having talked to each other.
THE PROPOSAL
Meshack: She was to relocate to South Africa due to work commitments. Consequently, I made up my mind to make us official before she leaves. So I organised a trip to their home in Mbooni. I hired a tour van and called a few friends to accompany me for the much needed emotional support.
Amina: On our way home, we stopped at Mavia Meu, which means white stones. I did not understand why we were stopping yet we were not yet home and in any case, there was nothing spectacular to see there, as I had travelled that road enough times before. I was furious when they started taking photos and he thanked his friends for coming.
Meshack: After my 'speech', I braved myself, whispered a prayer before going on one knee and popping the question.
THE DRAMA
Amina: When he went down on his knee, it took a while for me to appreciate what was happening. After all, it had been six months since we started dating and I totally had not expected a proposal. My first instinct was to run. I ran away towards the main road and stopped only to catch my breath. When I looked back, my eyes were still glassy with tears, I could still tell that he was on his knee. Moments later, I walked back and said yes, then proceeded to my parents' home as his fiancée. And I forgot about relocating to South Africa.
For More of This Stories Subscribe to the Standard Epaper to get a copy of Eve Woman in the Standard
Meshack: The wedding plans started immediately and surprisingly, we have been so lucky that our planning ran smoothly. The referrals we worked with delivered in good time and without fail.
Amina: During the exchange of the rings, I almost forgot which hand to place the ring on. I remember lifting his right hand. I also needed constant reminder that my place was on my husband's left side. I guess I will get used to it with time.
IN HINDSIGHT
Meshack: Let your friends participate in making your big day. Their input will prove valuable as was the case with our referrals from our friends.
Amina: Pre-marital counselling sessions are important. From our session, which we attended at our home church, House of Grace in Nairobi West, we have grown together as a team and have formed marriage enrichment groups as a result. Here, we will remind each other of what we learnt. We also found mentors from the process.
Meshack: In addition, we have learnt how to communicate better, to understand each other as well as how to manage conflict.
MEMORABLE MOMENTS
Amina: When we exchanged the vows. I realised that we are now in it for life. I could not help but fight back tears as I said the vows.
Do not miss out on the latest news. Join the Eve Digital Telegram channel HERE.