Gardy Chacha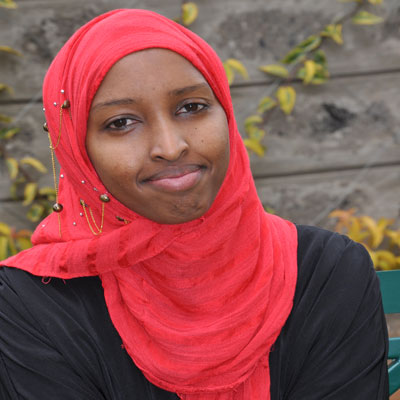 Her name is Simpire Adan; perhaps preempting into her simple and adamant nature. Simple in her life as a human being and adamant at pursuing success and happiness in her own sphere of life. The first thing I notice when she ushers me into her office is her meticulous nature with everything she does.
ALSO READ: Tragedy: Shock as mother plunges children, herself into river
She places everything on her table back to their designed loci before sitting down to begin our interview.
"Welcome," she utters with a sharp grasp of the queen's language. "I am the savoury category manager at Unilever Kenya, dealing with three different products and just being the person I want to be."
When she was completing her degree in Food Science and Technology at Egerton University, she wanted to start her own yoghurt business back at her hometown of Marsabit. She was certain she would pull through with it, having been part of a think tank among her classmates who pioneered and successfully ran a similar business, manufacturing and selling value added yoghurt packaged in primitive unlabeled packets.
new turn
But even in her blissful cradle of thought, fate couldn't have anything better for her as she applied for a management trainee position and was subsequently picked from an intrepid field of more than 600 graduates. Through the rigorous process that took three months, Simpire, with a bold appreciation for meritocracy, put her best foot forward and off she was with the prize; the recruiting team wouldn't let her proceed with her 'milky' ideas to Marsabit.
It was then that her star was set on the horizon; ready to rise and go places. She says: "The panel was looking for leadership qualities and good history. They wanted flexibility and I guess I demonstrated that I had what they were looking for. Now, I am a leader of the 'foodie' revolution and my job is to change the perception of food taste and kitchen practices."
Growing up, Simpire recalls going through an evolution of career ideas. She began with imagining herself as a pilot, which thereafter led her to love aeronautical engineering. As her mind went through the moulting process, bypassing Medicine and a horde of other prestigious fields, she decided to apply for Food Technology.
ALSO READ: Mum slammed for feeding her baby during a job interview
"After a session with a career counselor, I decided to go for it; based on my knowledge of my homeland's plight for food sufficiency, I wanted to be part of possible change of status quo for a better Marsabit," she quips.
Her decision sounded cavalier to friends and family members who could find nothing fancy but scorn for 'Food Technology'. Their concern was perhaps understandable as her rise as a bright mind first at St John Memorial in Marsabit town then Precious Blood Kilungu in Machakos through academia deserved to fetch a 'heavy weight' career — better than what she had chosen. In her mind though, the turbines of techno-food turned; she was pretty much set for what serendipity would bestow on her anomalous choice. Little did she know that the arrow of success, for a strongwilled Gabra girl she had been, was already curving towards much more than she had imagined possible.
At a mollified age of 28, Simpire has tasted what hard work in school and in her personal life has brought. With a young family that's barely three years old, and an 11-month-old baby, it's a delicate balance for Simpire attending to a family and handling job demands at the same time. It's a challenging scenario for any woman, but one she seems to glide over seamlessly.
"I am able to handle all these because I have a supportive husband," she offers. "Work-life balance is delicate, but for me I am led by a need to utilise time well and diligently. I hired a baby seater who helps me watch over my son — it eases my load a bit."
Her father is a biologist with a specialty on birds. Her mother is a teacher, and hence, as her parents' firstborn child, she found herself in a rare oasis of academic excellence. Her name means 'of the bird watcher' in her native Gabra dialect; a name she was promptly christened by neighbours who thought it would be well to emboss her father's passion for watching and studying birds into such memorabilia.
At work, Simpire aims for the best. Having climbed the ladder of success from the position of a student management trainee to be the manager of a whole department in within four years, nothing lower than the sky could be the limit for this young flamboyance brought up through Islamo-cushitic culture.
"Most women derive their confidence in the kitchen; it is part of most cultures," she states, "which is why my work involves making it easier for them to achieve expectations in the kitchen even with the distractions of the modern lifestyle involving work, children and marriage."
ALSO READ: Serena Williams and daughter Olympia Ohanian give us mummy-daughter goals
At Unilever, she handles two major products used in Kenyan households: Royco and Knorr. And for a woman who says she is a people lover, a family person, a Godly being and one who appreciates being alive, social life can only get better.
When she finds time, Simpire relishes in the joy of reading books. Her favourite authour currently is Merissa Meyer of Google. Even in marriage, she still harbours big dreams and prospects, including acquiring a Master degree at some point in future.
Who would make it on different planes in life if not for the strong and gifted like Simpire? Some would not agree but for her, challenges are good because "when you overcome one, only then can you know how strong and ready you are to handle an issue with such magnitude".
To the young women who are still finding their strides in the journey of life, Simpire has her two cents: "For you to achieve success, work hard. God has always had a plan for you. Never give up and take challenges positively. Don't allow one thing to pull you down."