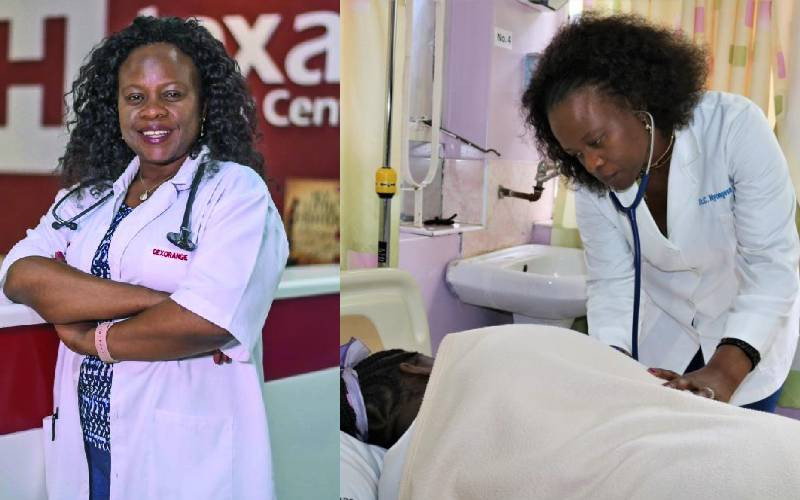 Dr Catherine Nyongesa's first language is Bukusu, and this is the language she was taught with in school.
The cancer specialist who now sits as the Founder of Kenya's biggest cancer facility - Texas Cancer Center - did not think that her background would propel her to a place of power.
Towards the tail end of her primary school education, Dr Nyongesa could barely communicate in English.
"Writing composition was difficult. I grew up in Bungoma, and we were taught in vernacular, which was translated to English. It took me time to learn English because everyone around me spoke vernacular," she says.
Ideally, Dr Nyongesa would have been a paediatrician. Her career choice however took a turn when her sister was diagnosed with cancer.
As a caregiver, Nyongesa who broke the record as the first female radiation oncologist, says the journey was not easy.
"Having experienced the hardship and as a medical student, I saw the challenges cancer patients went through due to a shortage of oncologists," she says.
"I used to move around with my sister looking for an oncologist, they were few. She was on chemotherapy and we also had to look for drugs. My sister was treated and she recovered, this gave me hope, that cancer is not a death sentence."
Dr Nyongesa said this encouraged her to explore the field of oncology, abandoning her first passion.
She would later travel overseas for training as the discipline she desired was not offered locally.
In her years dealing with cancer, Dr Nyongesa says it is a tough illness, "it takes a toll on patients, but there is also hope".
Seeing patients recover is what has kept her going.
"It takes a lot of commitment and resilience to run a hospital. There are many challenges, salaries are expensive and maintaining workers is expensive. The cost of medication and the security of the hospital is expensive.
Sometimes you get lost in the care of the patient and you are not thinking outside the box. There are good days and bad days, but you have to keep your eyes on the ball and stay positive," she says.
She says that her lowest moments are when she loses patients to cancer. "It is always very sad. But meeting cancer survivors to celebrate gives me so much joy."
She is at the peak of her career, and her journey is not without challenges.
"When you are climbing the ladder and succeeding, there is also an equal measure of negativity that comes with it. Sometimes I wonder why I even started, I should have just become a paediatrician or become someone's employee," she says.
To save her sanity, Dr Nyongesa immerses herself in the things she enjoys like listening to Bongo music.
"I capitalise on things that I enjoy the most like music, you know it is therapeutic. I also pray that God gives me strength to execute my purpose."
"People wonder what kind of doctor listens to music on full blast, I have fixed speakers inside my car... everything about music is found in my car," she says.
The doctor says that her mother encouraged her to work hard in school, and her memory keeps her going.
"I was born deep in a village with no electricity. Schools were far and we had no food during the dry season. I had to travel far places to look for food, and sometimes went for days without eating," she says.
It was not always gloom - she has some sweet childhood memories. "My mother used to brew beer and I used to help her. The ingredient for the beer was fermented flour fried in a pan, which I enjoyed eating. I also enjoyed sitting around the fireplace with my siblings during festivities while mum prepared chapati," says Dr Nyongesa.
She says that she has overcome biases on her way up and that as a child, people used to discourage her father from educating her. "They told him because I was a girl, I was just going to waste his money and get married," says the oncologist.
Her parents are departed, something she regrets. "My mum disappointed me, she left just after I completed my Master's Degree. She did not enjoy the fruits of what she pushed me to do," she says.
Dr Nyongesa says that throughout her school days she excelled and was always among the top 10 students.
She recalls the culture shock she experienced as a freshman at the University of Nairobi, "I was the only girl who succeeded to get out of my village to pursue medicine, now I was mixing with these children from top schools".
"I pinched myself severally to ascertain that I was indeed at the University of Nairobi. It felt like a dream," she says.
Marriage was something Dr Nyongesa had to shelve as she navigated her way to the top. Her eyes were focused on the prize. The firstborn in a family of 10 says she parented all her siblings. She was also determined to get her family out of poverty. "My siblings looked up to me, I could not let them down. I had to do everything right, for them to emulate. Parenting siblings is tough and as a mother, I should not let my children parent their siblings; let them chase their dreams. Parents should not overburden their children with their siblings," she says.
"Every time I got a HELB loan I would save the money to support my parents and siblings. My mother and father were not working and did not have money. I sacrificed to bring my siblings out of poverty and educate them. I sacrificed my internship salary as well to pay their school fees. I am proud that some of them are doing well."
She is happy she had her children when she did. "I got my first scholarship to study in South Africa when I was pregnant with my secondborn. I was sent back to deliver and reapply because I was going to work in a radiation zone," she says.
"For a woman waiting to finish her masters before you start a family is tricky because you are growing old, so I am glad I had my children then."
As a medical student, she studied hard, and the price she had to pay was leaving her children.
"I regret why I used to leave my children to study. I would lock myself in the room to study. But I had to fight to come out of poverty." A typical day for Dr Nyongesa has her juggling meetings, clinic visits, and lectures. Whenever an opportunity presents itself, she spends time with her family, who have been supportive of her career.
"My husband has been supportive, but it is not easy because you are a wife and when you go home you have to support him too. I take time to go on family holidays and relax once a year," she says.
Apart from her family, she also credits those in her inner circle for her success. She believes one is not an island, and that we all need each other for one reason or the other. "For you to succeed, you need a network and people to trust in you. Above all, respect everyone," she says.
And, as she nears retirement, Dr Nyongesa likes to frequent the farm. "I have planted maize and beans and avocados. I keep chicken too," she says.
Dr Nyongesa says her soft and technical skills have been instrumental in her growth.
"I am polite, down to Earth. A hard worker and a workaholic. I have been very soft with my children, but now that I am in my 50s I realised I am sometimes firm and tough on them," she says.
Related Topics