Home
/
How to safely celebrate Easter amid the pandemic, CDC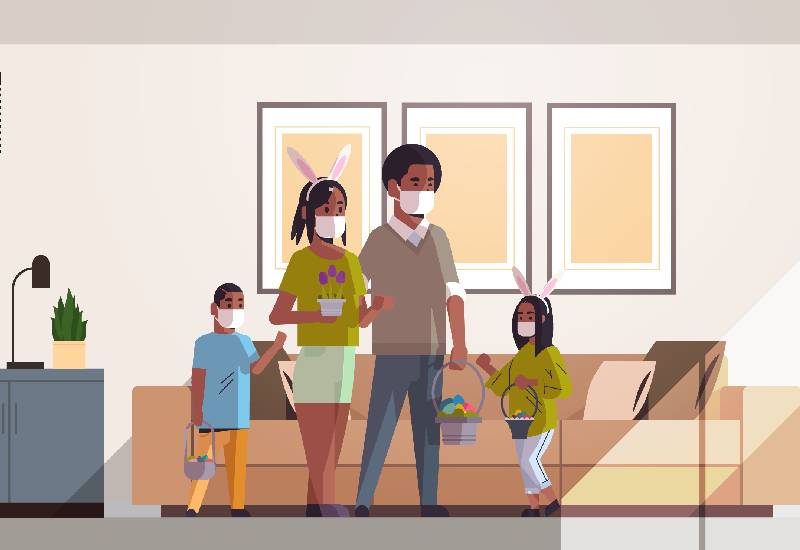 With only a handful of the population that has already received the first dose of a COVID-19 vaccine, many people are wondering how they can safely celebrate Easter amidst all the restrictive measures put in place to curb spread of the disease.
Can you gather as a family for Easter? Can you invite friends for Easter celebrations? Do you all go to church? These are just but some of the questions that threaten to dampen the Easter mood, but that doesn't have to be the case.
Sharing safety tips, the Centre for Disease Control (CDC) has urged peoples to remain vigilant and observe the safety regulations put in place including minimal interactions and social distancing.
"Celebrate Easter this year with people you live with, virtually, or outside while staying 6 feet part. Enjoy Easter dinner and egg hunts with the people you live with to protect yourself and others from COVID-19," CDC's statement on social media reads.
According to the health guidelines, if you have been sick or you have been sick recently then you should not consider hosting an Easter celebration as this will only increase your chances of contracting COVID-19.
If you get to host an Easter dinner, other than limiting the number of guests, you should aim to provide single-use options on food, drinks, plates and utensils.
Also, as a host, you should encourage everyone to wear masks and ensure that you have extra masks to give to anybody who will need one for a change for whatever reason – spoilt, forgot at home, dirty...
For those who will be celebrating Easter indoors, CDC advises that the windows and doors should be open all the time so as to improve air flow in the room and allow fresh air into the house.
Sanitizers should be readily available and guests should also be provided with a separate space for washing their hands. You should also frequently clean and disinfect frequently touched surfaces and items between uses.
The CDC also recommends:
Egg hunts be done outside while wearing masks and staying at least 6 feet (about 2 metres) apart
Attend religious services virtually
Opt for outdoor celebrations as they are safer than indoor celebrations
Hosting virtual gathering with friends and family
Related Topics