Home
/
Easy recipe: Flavour trip with tamarind chicken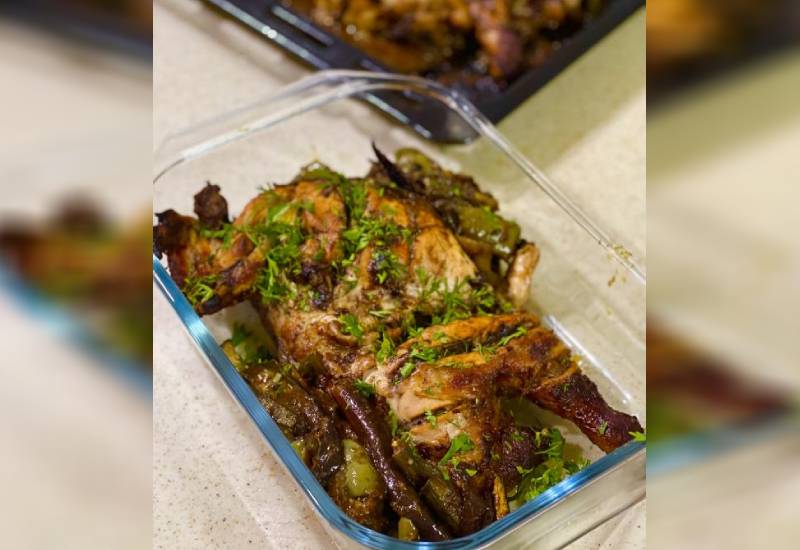 Let's make one of my signatures, the tamarind (ukwaju) chicken. I love the tartness and the combination of flavour in this recipe. We will use a whole chicken cut into two.
What you will need:
1 whole chicken cut into two (halved)
1 & 1/2 teaspoon garlic ginger paste
1/2 teaspoon turmeric
1 teaspoon curry powder
1 teaspoon black pepper
1/2 teaspoon coriander powder
1/2 teaspoon paprika
1 onion, sliced
6-7 eggplants, halved
3 sweet pepper, diced
1 tablespoon honey
Salt to taste
2 tablespoons oil
2 cups thick tamarind sauce/ extract
1 bunch fresh coriander
What to do:
Pour all the powder spices; turmeric, curry powder, black pepper, coriander powder, turmeric powder and paprika over the chicken and rub all over.
Add one teaspoon garlic ginger paste and salt continue to rub and mix well using your hand. Set aside to marinate and infuse flavor for about two hours.
In a nonstick pan over medium heat, pour one tablespoon of the oil and pan sear the chicken until golden brown, about six minutes each side. Once browned remove and set aside.
In a another non-stick pan, add a tablespoon of oil and then add the onion slices. Sauté until soft then add in the eggplant and sweet pepper.
Go in with some garlic paste. Mix well then add the thick tamarind sauce/extract. Bring to a boil and add the honey and salt.
Let it cook for another three minutes once it starts to thicken, go in with the cooked chicken and continue to cook for another 10 minutes or until the sauce is completely reduced and coats the chicken. Sprinkle some coriander leaves and serve hot.
Related Topics