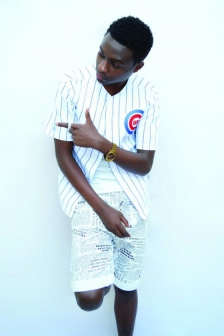 Pulse: Your new track Newborn E-Sir as well as the deep lyrics addressing your true emotions to the late teen sensation leaves a lot to be admired. Are you trying to be him?
Kid Willy: When I was doing this track I was working on an EP named Newborn E-Sir. Basically, E-Sir remains the greatest departed music legend our generation has ever seen and I was bringing out the message that a new legend has been born. The single was actually the lead track of the EP.
P: Most of your fans are referring to you as new born E-Sir thanks to the track, and not Kid Willy, which is actually your stage name. How is this affecting your business and, besides, are you comfortable being referred to as E-Sir whose shoes many have tried to fill in vain?
KW : Well, my fans can refer me through whatever name they wish. Probably, they feel that I am as good as E-Sir was and that is a positive thing. Eventually, my Kid Willy name will win over all that. I have recorded many other bigger songs than Newborn E-Sir and I guess, the release of the songs will change the whole picture.
P: But why would you allow yourself to lose your identity to one of the greats and not curve out a niche for yourself...are you using a great name as an entry point into the industry?
KW: I don't think I lost my identity or I am about to. What I gave fans is something to remember me and E-Sir with and in the process introduce my talent to the world. Whenever that song is played the fans will always remember me.
P: We trust you had to get permission from the late E-Sir's management and his family before recording the song. How did they react?
KW: It was only human that I sought for permission from the late legend's family because despite him being an artiste, he was also a son and those he left behind are the ones to guide on how the public remembers him to say the least. We arranged for a meeting with the family and the mother agreed that I do the song that has lyrics from his track songs with condition that the song paid homage to E-Sir.
P: Does Ogopa Studios, who own the rights to E-Sirs music have any say in regard to the song?
K: Not really. We had a meeting with the Ogopa Deejays management and in particular Lucas. However, we didn't agree on the terms. We ended up with no closure. When they heard the EP, they said I was the future E-Sir and that meant a lot to me. I can never forget that.
Pulse: This month we celebrate E-Sir's anniversary, a legend in the rap game. What do you think E-sir's absence has done to the industry?
KW: We really miss him for one. Secondly, E-sir's absence really left a big gap in the industry I think if E-sir were alive he would be bigger than Sauti Sol now.
P: Is payment of royalties involved for using E-Sir's lyrics in your songs as per to the agreement, now and in the future?
KW: I find this question funny because apparently the project has not generated money in terms of royalties according to the Music Copyright Society of Kenya (MCSK) despite being on rotation in major media outlets. Kanata, who features in the song, and I go way back.
P: What are some of the other songs you've produced and what inspired them?
KW: I recently released an audio on YouTube called Hapan Tambua. I also have tracks from the Newborn E-Sir EP but most of my new projects are unreleased.
P: Go on...
KW: I'd say my inspiration comes with what I feel at that particular moment. Sometimes I feel like I want tell a story so I come up with a spoken word piece and at times I feel like turning up and partying so I come up with a hip-hop jam.