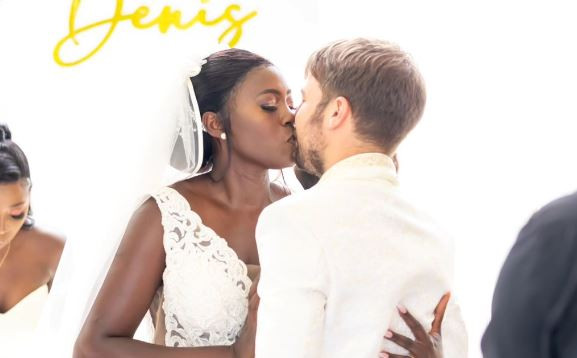 Singer and businesswoman Akothee has taken to Instagram to update her fans on her post-wedding plans.
The mother of five, who recently tied the knot with her Swiss fiancé, has revealed that she plans to put her career on hold to focus on her love life and start a family with her husband.
In her Instagram post, Akothee shared details of her beautiful wedding ceremony and expressed her desire for a unique one in the future.
She also revealed that they had not yet gone for their honeymoon, as her husband had to return to work immediately after their two-week rest.
"We haven't gotten time to go for a honeymoon. Days are running, and the year is getting closer. We are not pregnant yet, and I think I am too stressed," Akothee shared.
"So I want to put everything on hold and concentrate on my love life. If I don't get pregnant between now and July, every other thing will wait."
Akothee also mentioned that her doctor had advised her to hold on until after the wedding before trying to conceive, explaining that weddings can be stressful and may affect her ability to get pregnant.
She added that she was disappointed when she received her period after the wedding, as she had hoped to be pregnant already.
"My Dr. told me to hold on until after the wedding. She told me clearly that weddings drain energy; therefore, I might not get pregnant that soon or I might lose the pregnancy again. When I received my periods, I was mad at myself," Akothee lamented.
The singer went on to express her desire to take a break from social media and focus on her love life, saying, "Give me time. I will take a break from everyone and everything, including social media. Allow me to look for my second last born baby before we talk about other things. I want to be a mother this year."
In January this year, Akothee shared her plans of trying to conceive again with her partner Omosh, after experiencing a heartbreaking miscarriage in December of the previous year.
In a lengthy social media post, the singer expressed her desire to have a baby with Omosh and revealed that they would be trying again, but this time, things would be different.
"We are trying again, this time round Omosh has said he will switch off all my phones and take me to Switzerland until we give birth, and anytime he sees me in the gym flaunting my body, he tells me it won't be long," Akothee shared with her followers.
Akothee went on to reveal how excited Omosh was about the previous pregnancy, saying, "Well, we had bonded with the fetus so much, and the only song Omosh sang for me was 'Honey we are preeeeegnant.'
"We woke up at 3.00 am to go eat pineapples, Omosh was so happy, and he felt like we were both carrying the baby. He slept with his hands on my tummy all night, always kissing and reminding the baby, 'hey daddy is here.'"
Despite the excitement, Akothee admitted that the experience of losing the baby had left her apprehensive about trying again.
According to her, she had been advised against getting pregnant at the age of 40 because of the risks involved. However, she had remained optimistic and hopeful that she would conceive and carry a healthy baby to term.
Related Topics