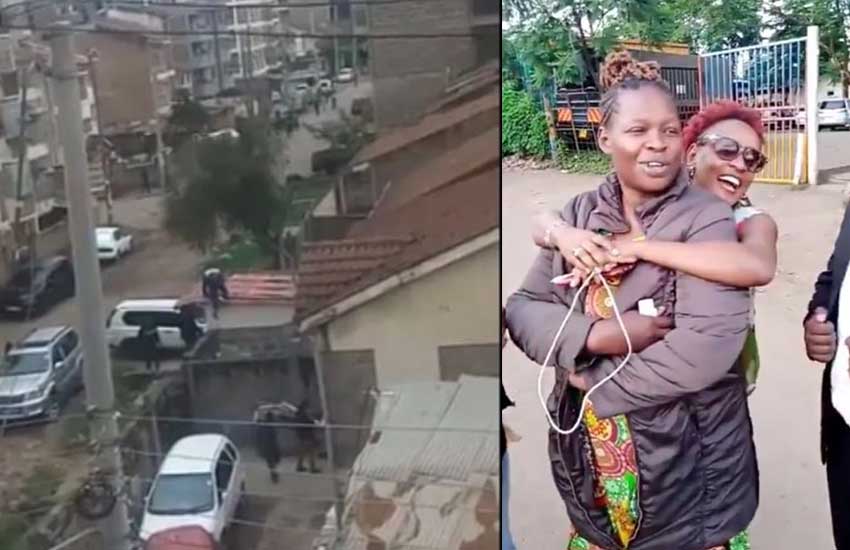 Police conduct yesterday came under scrutiny as, Kenyans, leaders and human rights organisation Amnesty International Kenya questioned the manner in which online personality Mildred Atieno Owino was arrested.
Owino is the most well-known admin of the Facebook Group, Buyer Beware. The group exposes people, but this time she found herself posting her own saga on Facebook Live as it unfolded when police came busting down her door. She live-streamed a group of police in civilian clothes getting into her compound, lobbying teargas canisters and eventually breaking into her home to arrest her. She also said the police killed her dogs.
"The force used to access Mildred Owino and Jorim Odhiambo's house and to arrest them was disproportionate and unnecessary. We remind the National Police Service that the law and the Constitution require force to be used only when necessary, in a lawful, proportionate and accountable manner. Before force is used, other non-invasive means should be explored including summons," read a statement by Amnesty International.
Read Also: Boniface Mwangi: I was kicked out of church!
ODM Secretary General Edwin Sifuna, also decried the incident. "This is totally unacceptable! What grudge does the National Police Service hold against Owino because this isn't the first time. She must be freed unconditionally and an unreserved apology rendered by Inspector General. The police is supposed to be a service not a force," Sifuna said in a tweet.
The hashtag #freeatty trended at number one on Twitter, with thousands of people weighing in. Kenyans on Twitter accused the police of intimidating Owino and everyone else fighting for a better Kenya. Police never use that kind of force when arresting rich crooks. That kind of violence is only used on everyday citizens who who are fighting corruption and the culture of impunity. #FreeAtty," read a tweet by activist Boniface Mwangi.
It was not immediately clear what the reason was, but she was later taken into custody at Industrial Police Station in Makadara, Nairobi and is to be charged with "incitement to violence".
Read Also: Tortured for three hours? Mwalimu Rachel accused of assaulting Miracle Baby's friend
Her charge sheet reads: "Following a report of a wanted M/V Reg No KCL247F Nissan E-Xtrail for offence of causing obstruction vide Makongeni Police Station OB No 32/21/1/2020 which failed to stop by a police officer in uniform."
She was arrested at Savannah Estate in Donholm alongside her husband, Joram Odhiambo Oliech, who was driving the said vehicle on that date. The two are in custody and will appear in court tomorrow "to answer charges of incitement to violence and causing obstruction respectively."
Read Also: I made Sh 2.9 million selling Miraa- Police Constable