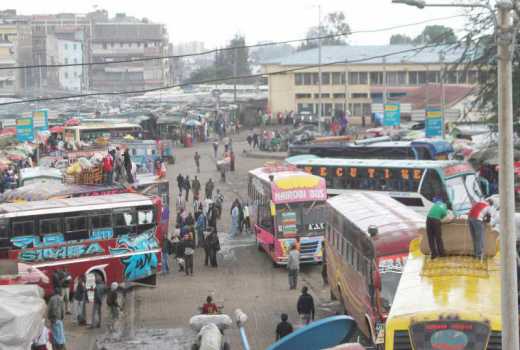 Touts and hawkers accused the police of making arbitrary arrests and demanding bribes before releasing them
Traffic along Jogoo Road interrupted by morning demonstrations
An early morning police operation yesterday sparked protests in sections of the city, paralysing traffic for about hours.
The 7am operation at the Machakos Country Bus Station and Muthurwa Market rendered the busy Jogoo Road impassable, inconveniencing those going to work.
Touts, drivers, and boda boda operators at the busy bus station got into a confrontation with the police after the law enforcers reportedly made arbitrary arrests of touts and demanded that they pay a fine.
"The police just came and started arresting touts and even passengers who were stranded. They, however, did not make it clear why they were making the arrests and this led to a scuffle," said a ticket handler who identified himself only as Samson.
According to Samson, the police were demanding that each one of those arrested pay Sh1,000.
In retaliation, the touts, with the aid of some of the boda boda operators, started hurling stones at the police and lit fires in the middle of the road, bringing traffic to a standstill.
"Police should not demand bribes. Where are we expected to get Sh1,000 at the crack of dawn even before business picks up?" asked Samson.
Stranded passengers
Stranded passengers had to walk to town. Operations had, however, resumed by mid-morning.
Mark Thuo, a boda boda rider, narrated a tale of constant harassment by police.
He was concerned that instead of arresting criminals who are well known in the area, the officers had resorted to harassing traders and extorting money from them. He said it was not unusual for traders to pay as much as Sh2,000 to appease the officers.
"Boda boda operators had to intervene because the situation was getting out of hand. It is not the first time this has happened and unless we stand up for ourselves no one will," he stated.
Thuo observed that after hours of protests, those arrested were taken to Kamukunji Police Station but were released.
He further accused the law enforcers of colluding with criminals posing as promotion agents, who fleece the public.
"Most of the shady businesses being carried out here such as gambling are done with the consent of police officers. The owners of these businesses are known, but the officers pocket as much Sh50,000 to turn a blind eye to the vice," added Thuo.
He appealed to the authorities to protect wananchi as they go about their business instead of harassing them.
The Nairobi Central OCPD, Harrison Thuku, said police were carrying out an operation but they had to abandon it after it turned chaotic.
He criticised the touts' conduct and told them to refrain from breaking the law.