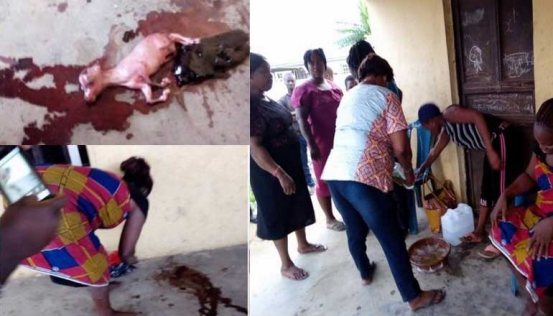 Odd as it may sound, a Nigerian woman in Rivers State threw locals into utter shock last Tuesday after she gave birth to a goat-like creature.
Respected local press, among them The Herald, Nigeria Today and The Daily Post, broke the news complete with picture backups, claiming that the unidentified woman had strangely been pregnant for, get this, two years.
From a viral video of the gory incident seen by Crazy Monday, news of the oddity saw locals throng Kerala Community Hall where the woman had given birth after she consulted a free medical check-up exercise organised by an evangelist, a certain Pastor Jerkins.
"It was a free medical check-up at the community centre where patients with ailments from fibroid, internal heat, stroke and others had showed up for treatment," said the pastor.
A huge crowd of curious onlookers milled the incident as they gathered to watch with local media reporting on an infant goat-like animal covered in a pool of blood on the concrete floor.
In the video, the dead blood-soaked goat-like creature is seen on the ground, with locals jostling to have a look at it.
Related Topics