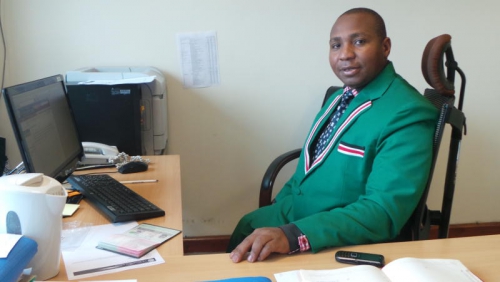 Dr David ole Sankok, the chairman of National Council of Persons with Disabilities (NCPWD) has threatened to close down City Hall and Parliament on June 15 for failing to adhere to provisions of persons with disabilities act.
The act provides that public buildings shall adapt to suit persons with disabilities. The provisions should come to effect five years since the promulgation of the Constitution in August 2010.
"The Act was adapted by the Constitution and a grace period of five years given. Now the deadline is on June 15, and I have already warned the Nairobi County Governor Evans Kidero and Parliament Speaker Justin Muturi. I will close them down" said Sankok.
Sankok who is attending a conference in New York, USA plans to cut short his tour to be in Nairobi that day.
"We will go for a court order, but largely we will go the kangaroo style. We will camp at Kidero's offices and it will be upon him to take care of us," he told The Nairobian.
He added that: "Kidero will have first hand experience that the disabled go through. I tell you he will carry us to short and long calls, tea breaks and around various offices and other areas the average people have to access. No business will go on there," he warned.
It will be the same case for Speaker Justin Muturi. Sankok claimed that save for the Senate, the national assembly and Nairobi County government has not complied with the directives to make their buildings accessible to the physically challenged persons.
— James Mwangi