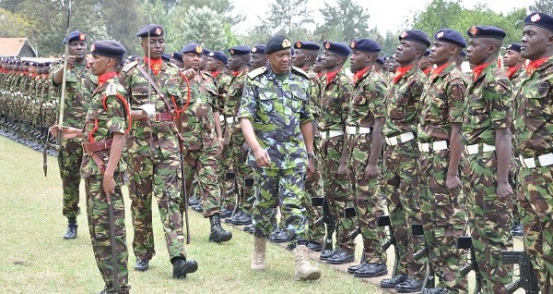 So, Kenyan youth are bribing fraudsters Sh400,000 to join KDF, and this at a time of war.
If you imagine they are forking out that sort of loot because their hearts are bursting with patriotism and the desire to die for their country, you are a fool. They want a job - any job. If you told them there are jobs in Syria, they would still bribe to get there (and crawl home a year later sobbing about how devilish their employer is).
Their parents will have done everything to get them jobs - hired tutors, much as holiday tuition is banned; and 'greeted' teachers by greasing their palms with Sh1,000 notes during visiting days and whispering, "Niangalie hako kangu (watch over my child)."
The more illustrious would have hired witchdoctors or even bought the KCSE examination. Anything to give their seed a leg up into the outside world.
But when that fails, what to do? Take a bank or cooperative loan of course. Borrow from the Shylock. Sell a piece of land. Hang around Parliament buildings hat in hand waiting for an MP who thinks you are a piece of crap. You have to do anything to get that boy or girl a job, and if bribing a fraudster is the only option of landing your son or daughter one, especially in government where terms are permanent and pensionable, so be it.
And therein lies the problem with the way we school our children. Here we are, with an education system that is supposed to nurture self-sufficient youth. But heck no, the blighters can't sit down and think about making cash and becoming employers.
They just want to be employed so they can spend the rest of their sorry lives cursing bosses and whining about lousy salaries, going on strike year in year out and hating the very members of public they bribed to serve.
Yet, if you read the farming pullout in the Saturday papers, you bump into stories of entrepreneurs who started off with seed capital of Sh20,000. But because parents are so risk averse, they will sink half a million shillings, a tidy fortune, to get their sons employed as cops in Boni Forest!
That money is fantastic seed capital for any business. It can start an Mpesa shop, a kinyozi, a pub, a hotel, a farming venture or pay dowry for a sturdy wife! But we don't raise our kids to take charge of their lives. We educate them to become fawning servants who toil into old age and retire to die poor.
You know Sonko says he made his first million when he was a high school student. And if the father he is burring in "a gold and diamond encrusted coffin" raised him to be a businessman of whatever shade, that old man is a hero.
You know, if that mzee had bribed Sh400,000 to get him employed, Sonko would have been that cop complaining on national television about the horrid conditions of service in Boni Forest, that teacher yelling about poor pay, or that soldier who was dismissed on dubious grounds.
But see what happened? The hustler became a senator.
Related Topics