Premature campaigns confirm some people are above the law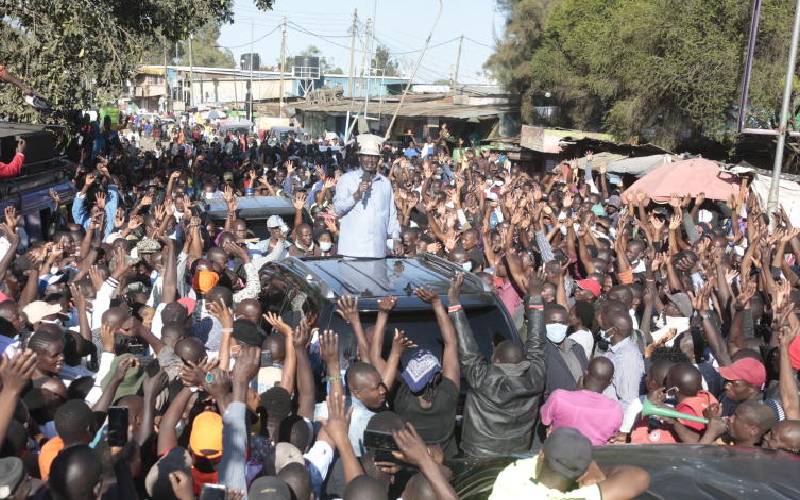 Whoever says "no one is above the law in Kenya" is a liar. Many politicians in Kenya are above the law and that is it. We better start with this premise and discuss anything else after.
We are in the heat of political campaigns. Crowds everywhere as if elections will be held next month. Well, that is not the whole story. The campaigns have been running intensely in the past two years, the Covid-19 protocols notwithstanding. The president issued several no-campaign directives during the lockdown. Who really cared? We had more than enough media coverage of political campaigns during the same period.
This explains why the Kenya Conference of Catholic Bishops correctly raised concern over the ever ongoing campaigns as if there is no law in the country governing when they should start and end. Thus, the bishops said, "it is unfortunate that our leaders have abandoned delivery of services to the people and moved into full time campaigns well ahead of the legally stipulated campaign period."
Learned friends could have several interpretations of the law but what we see is that official campaign period starts 60 days to the election day. That is about two months before the elections. The unofficial time could be anything within a year to the election date.
However, there is no distinction between remote campaigns or passive campaigns or otherwise campaigns in the unofficial period and the full-blown campaigns. In the latter, candidates are legally everywhere seeking votes. They can put up posters, hold rallies, conduct media campaigns and use any other legitimate platform to pitch their case.
What we see is evidently contrary to the law of the land; massive rallies a year to election day, posters, bill boards erected, symbols displayed and candidates themselves vigorously campaigning in broad daylight.
The continued normalisation of election crimes beginning with campaigns outside the stipulated time can only tell us one thing: Some Kenyans are above the law. Full stop.
I also read in the Second Schedule to the Elections Act, 2011 Electoral Code of Conduct Article 6(d) thus. "Refrain from campaigning in places of worship or during burial ceremonies." Perhaps an amended Code of Conduct we are not aware of allows campaigns in places of worship and burial ceremonies. We need to see it or else conclude that clearly some Kenyans are simply above the law.
Further, political campaigns of the magnitude we see taking place are social disruptors. There is so much disruption of government operations including redirecting law enforcers to keep peace. Aspirants who work with the government both in the Legislature and Executive are under contract to work for Kenyans at least eight hours a day. MPs, for example, much as they justly can travel across the country to fulfil their duties, should not simply disguise working in premature political campaigns.
Burning energies in political campaigns outside the law is robbing Kenyans of services they are entitled to. The time spent in campaigns is a public resource that Kenyans pay for.
It amounts to someone drawing salary for work not done. Labour laws are very clear that an employee must honour a contract to receive pay. How do we justify paying public servants, including elected leaders, who are all over the place campaigning?
If a small person were to do this in any workplace, how long will such a staff last at work before receiving a "show-cause why" letter?
As the learned friends told us while throwing out the Building Bridges Initiative (BBI), the law was not followed in initiating the process. So, the proponents of the process were not allowed to benefit from a flawed process. Nothing much was said about the BBI content. It will be good to know, in the same breath, if aspirants will be allowed to benefit from a process whose rules have consciously tempered with.
Dr Mokua is Executive Director, Loyola Centre for Media and Communications