The tragedy of Kenya's winner-takes-it-all elections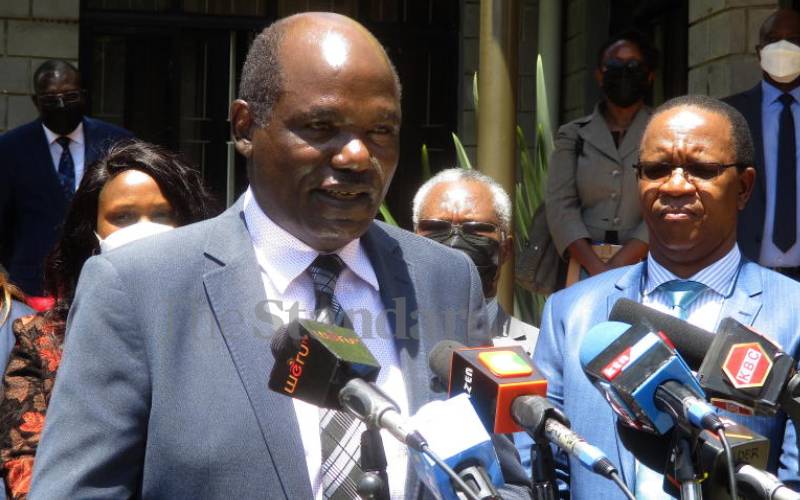 Is next year's presidential election a zero-sum game? Yes, going by the famous Game Theory by John von Neumann. The major players in the 2022 elections are the voters, political aspirants and the Independent Electoral and Boundaries Commissions (IEBC). Everyone else is an interested party.
In Game Theory, rules of the "game" are important even though the players may not satisfactorily practice them. To paraphrase the law of the land on election outcomes, there can only be one winner through universal suffrage.
The one declared second best, however close to victory, goes home empty-handed. Game Theory produces a winner and a loser, as does our electoral process.
We have learned from recent past experiences, namely 2007, 2013 and 2017, that a runner-up has no official fallback safety net in spite of putting up a strong show commanding interest from nearly half the country. Since the law is silent on the gap in spite of the dangers of sliding the country into civil unrest, nothing makes it unlikely that we could repeat our antagonism next year.
The lesson is that our presidential election is clearly a zero-sum game. Moreover, ours is a winner-take-all law. The second best is squarely vanquished. What does this mean for the presidential candidates?
From day one, you are doomed if you lose. Well, don't we know that accepting defeat is a sign of political maturity? Of course, yes! But, this kind of argumentation is simplistic and pretentious. Winning comes with huge benefits not just for the aspirants and their immediate supporters but for the tribes that produce the highest number of voters for the winner.
Unlike in other democracies where the winner comes in with a battery of supporters and bureaucrats but serves everyone equally, ours is very different. A winner applies a principle in Game Theory called Marginal Contribution in which the relevance of other players is determined by what they "bring to the table."
In Game Theory, strategy and payoffs are critical elements. Given that the baseline principle in the theory is that, you make a decision that best serves you regardless of what the opponent decides, an effective strategy is paramount. After all, since competing aspirants hide their strategies from each other no wonder campaigns are characterised by provocations and hardline positions.
The two leading presidential aspirants for the next year, William Ruto and Raila Odinga, approximate that they stand a chance without one endorsing the other. However, probability is no guarantee for victory so they caution themselves by another principle in the theory: minimise maximum loss, which means think of the worst scenario, and strategise a fallback safety plan.
The risk with our law is that the second best is a total failure. Completely irredeemable for five years. Beneficiaries of this gap are also-rans candidates whose main motivation, according to the theory, would place them close to winners for they might be necessary minor players. They wait in the corridors as hungry vultures.
One limitation of Game Theory is that it assumes political players are rational at all times. We know from politically instigated tribal clashes to misuse of youth as political objects for violence that some political players are irrational.
Consequently, the reactions of aspirants who turn out to be second best depend on their rational maturity when most vulnerable. The winner and the second-best can be irrational. One will aim to stamp authority - legitimate or illegitimate - on a declared win, and another justify - legitimately or illegitimately - that the outcome does not reflect a true vote count.
Since we do not know whether the winner and/or second-best will react rationally to the election outcome in 2022, we can only turn to IEBC to ensure fair play - much as fair play will only provide momentary consolation. Even then, the voter, a major actor in political game theory, bought for "thirty silver pieces" undermines the credibility of the process and outcome.
-Dr Mokua is executive director, Loyola Centre for Media and Communications