Colleges rush to complete projects ahead of opening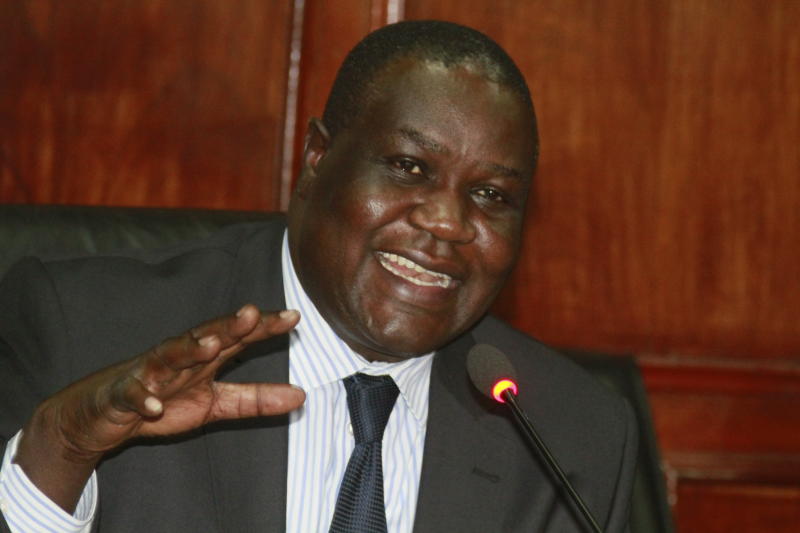 The Ministry of Education is rushing to complete stalled projects worth more than Sh200 billion in schools and colleges to expand their capacity ahead of opening.
Colleges are scheduled to open in September and schools in January with strict adherence to health protocols like social distancing to curb spread of coronavirus.
Education Cabinet Secretary George Magoha has ordered management of public universities, constituent colleges, and Technical Vocational Education and Training Institutions (TVETs) to work towards completion of projects.
In a circular dated June 14, Prof Magoha cited President Uhuru Kenyatta's directive on completion of all projects.
"Following the Cabinet meeting on July 7, the president directed State agencies and public institutions to focus on completion of ongoing priority projects and programmes," Magoha said.
Funding obligation
He said no new projects will be rolled out without the express authority from the executive.
With less than two months to reopening of the TVETs, Vocational and Technical Training Principal Secretary Julius Jwan yesterday directed principals to complete stalled structures to create room for more space ahead of the reopening.
"Each party is required to meet its funding obligation. Where Constituency Development Fund has not fulfilled its obligation, we shall seek those MPs who have not provided funding for the constructions," said Jwan.
The PS warned that slow contractors would be issued default notices/warning letters.
"Any requirements for inter-agency intervention and the estimated completion dates for delivery of the priority projects and programmes will be communicated to the Principal Secretary for intervention," said Jwan.
The PS spoke yesterday at a meeting with principals of TVET institutions at the Kenya Technical Training College in Gigiri, Nairobi.
Magoha asked all agencies and public institutions to prioritise settlement of verified pending bills.
"Payment of pending bills will be the first charge on each ministry's State agency and public institutions budget," he said.
This as it emerged that several projects at Technical Training Institutes are yet to be completed with major capital ventures in universities and some in the semi autonomous government agencies lagging behind schedule.
An analysis by Saturday Standard of performance of the capital projects under the 2016/2017 to 2018/2019 Financial Years indicate that the Ministry of Education is reeling under the weight of incomplete projects worth about Sh200.7 billion.
Already, some Sh70.3 billion have been sunk, but the fate of about 310 projects is uncertain.
The report reveals that projects initiated in universities are yet to be completed, with some recording as low as 17 per cent completion rate.
Overall, universities have the biggest number of pending projects.
At Maseno University, the construction of tuition and administration blocks estimated to cost Sh500 million is only 24 per cent complete. Some Sh124 million has already been spent on the project that was expected to be finalised in 2021.
At the University of Nairobi, the biotechnology project that was projected to cost Sh14 million is only 17 per cent complete.
The project was scheduled to start in 2016 and end in 2018.
At Masinde Muliro University, construction of a multi-purpose hall, which started in 2013, is yet to be completed. Some Sh112 million has been spent on the project, which was to cost Sh646 million and end in 2017.
A physical sciences laboratory at Egerton University, which was to cost Sh223 million, is only 27 per cent complete with Sh60 million already spent. The project started in 2015 and was expected to end in 2016.
At the same university, construction of phase one of a library projected to cost Sh2.4 billion is 21 per cent complete.
The project that started in 2017 was expected to be complete in 2021. So far, some Sh518 million has been spent.
"All State agencies and public institutions must enhance the presence and visibility of government through continuous inspection of ongoing projects and robust engagement with the public," said Education CS. Under basic education, construction of infrastructure in some schools is yet to be complete.
Construction of the multi-billion Mitihani House in Nairobi that was expected to bring all examination operations under one roof is still pending years later.
The building in South C that was to cost Sh2.67 billion started in 1985 with new completion dates pushed to 2022.
"Project stalled. The original contractor was discharged by paying Sh322 million in 2017/18 FY," reads the status report.
Some Sh400 million was also allocated towards refurbishment and construction of various community learning resource centres with the expected date of completion pushed to 2023.
Infrastructure in some schools in North Nyamira/Borabu, which were projected to cost Sh1.6 billion and started in 2015 are yet to be complete.
Construction of Education Resource Centre at the Kenya Institute of Curriculum Development, which was projected to cost Sh1.4 billion under phase one is 70 per cent complete.
With some Sh1 billion already pumped in the project, it is now projected to end in 2022. And Sh777 million was set aside to construct County Directors offices and District Education offices.