Yatani's budget should give crestfallen Wanjiku a good reason to smile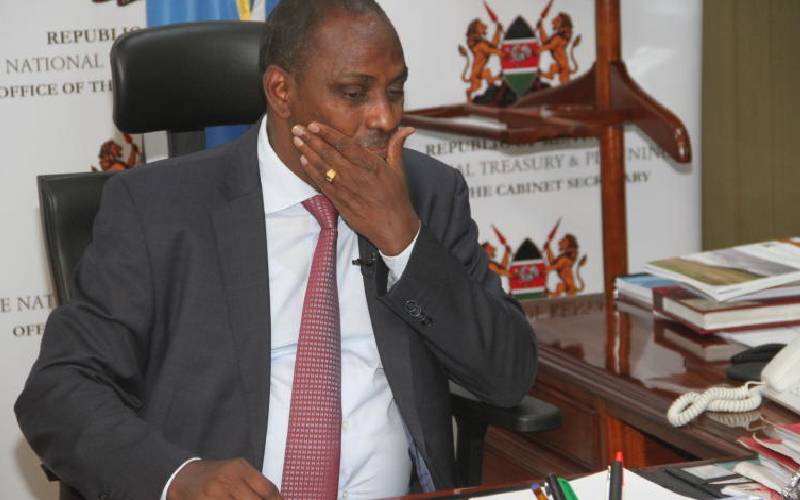 Today, Treasury CS Ukur Yatani rules the airwaves as he presents the Sh3.6 trillion budget to a nation crippled by the coronavirus pandemic. This is the second budget since the onset of the pandemic, the last full year for President Uhuru Kenyatta and the most uninspiring with no answers for the current tough times.
But as Yatani takes the floor to address the nation, he must give hope to Wanjiku by ensuring that a number of his programmes would help lift her now dismal living standard. We acknowledge that it will not be easy for Treasury to fix all that ails the country. For the next one year, every Sh100 collected from Wanjiku, Sh70 will go into servicing the staggering Sh1.2 trillion debt, leaving only Sh30 to fund the country's needs.
This is a dry budget and Treasury mandarins seem to have long run out of ideas on how to deal with the desperate times. Treasury now takes more than it gives and exists to please the International Monetary Fund (IMF) whose aid taps are now free-flowing.
Unfortunately, IMF has tied its loans to tough conditions last witnessed in the miserable 1990s.
For some time, one of the biggest concerns has been pending bills that have ballooned extraordinarily in the last few years. But despite the government pledging it would settle them, that is yet to be done.
Failure to settle these bills has in turn negatively affected the economy. This has led to liquidity constraints and stifled spending by small businesses, many of which have shut down.
Payment of pending bills can stimulate the economy. It is only fair that the government pays these businesses for the services rendered.
This budget has no relief measures and the Treasury technocrats must think seriously about them in order to recover the ailing economy.
It also lacks a stimulus plan for the youth at a time when unemployment figures have shot over the roof. This is likely to lead to one of the biggest social crises of our times, with some youths turning to crime and other ills to survive.
Initiatives like the Kazi Mtaani programme remain uncertain with future budgetary allocation to service this important market segment frozen.
Meanwhile, almost 300,000 young people from the 47 counties who has served through this programme are yet to be paid their dues.
Let's hope that Yatani's team will look beyond the taxes and help Wanjiku make ends meet in these difficult times.
Notably, the biggest worry for distressed Kenyans currently is a consumption tax. The prices for basic commodities have been beyond the means of average Kenyans. Prices of food, including maize flour and cooking fat, petroleum products and even airtime keep on rising, thanks to high taxes. We hope this time Yatani will spare Kenyans extra pain.