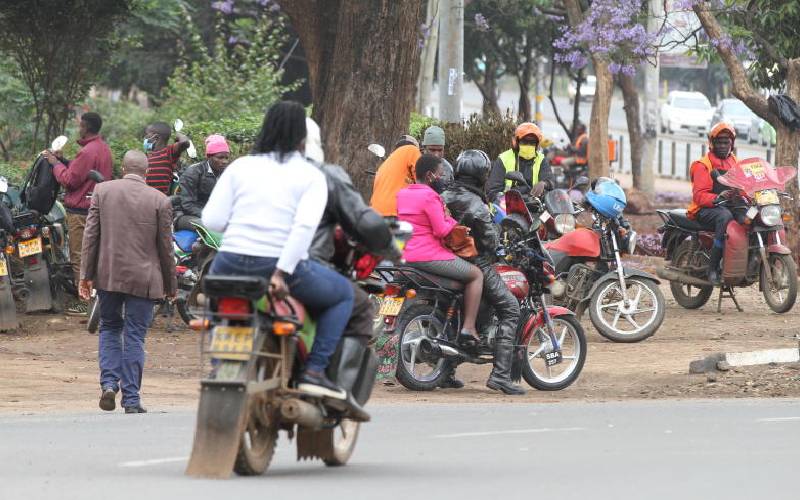 Recently, President Uhuru Kenyatta highlighted the important contribution of boda boda to our economy. Every day, the president said, those in the business make an average of Sh180 million. This amounts to Sh6.8 billion in a week and Sh27 billion every month.
That is a tidy sum of money. Of significance, the amount supports a big chunk of the population considering that most of the 1.4 million boda boda riders in the country have dependents. The still nascent boda boda industry therefore cannot be wished away.
Sadly, however, the boda boda industry is associated more with depressing stories. There are bad things in this industry that need to be sorted out so that it can take its rightful place in the economy. First, the industry has been infiltrated by criminals with some riders accused of abetting crime. In fact, in some parts of the country, boda boda riders have in the past attacked and even killed motorists, especially after road accidents. Some riders are rogues who are quick to take the law into their own hands.
Secondly, majority of the riders are not licensed. They have a scant understanding of road rules and as a result put their lives and the lives of their clients in danger on a daily basis.
It is no wonder then that motorcycles caused the deaths of 1,421 people last year, according to NTSA. To illustrate the enormity of the problem, motor vehicles claimed less lives — 1,049 — during the same period.
Read More
There is no doubt that lack of training on the part of the riders is to blame for the high incidence of road accidents.
Therefore, even as the president seeks to boost the fortunes of the riders by encouraging them to save, it is imperative that first they be trained and licensed to improve their safety and the safety of other road users. Usually, riders complain that their earnings are meagre and as a result cannot afford to pay fees in driving schools.
But with government volunteering to train boda boda riders through the National Youth Service for a paltry 750 each, the average amount each rider earns daily, none of them should have an excuse for not acquiring a licence.
Notably, Kenya Driving Schools Association has poked holes in the NYS training terming it impractical, political and aimed at pushing them out of business. It has a right to air its grievances.
The truth, however, is that we have had boda bodas for a decade now and majority of the riders are still untrained and unlicensed due to pecuniary pressures.
The NYS training is therefore a godsend. What the government must ensure is that the training under NYS is of the same standard as the one prescribed for driving schools. There should be no short-cuts.