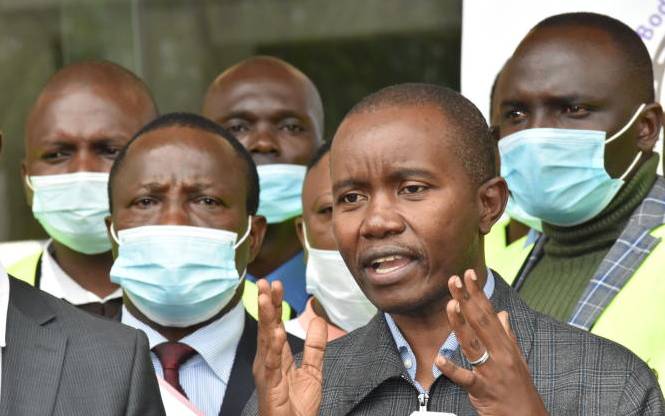 The National Youth Service (NYS) will train boda boda riders across the country to boost road safety.
The riders will pay Sh750 for the week-long course and thereafter, receive a certificate and licence.
The initiative is part of reforms by the government to streamline the boda boda sector. This comes after the launch of the Collective Investment Scheme by President Uhuru Kenyatta last week.
No rider will be allowed to use the road without a licence and will be registered with Boda Boda Information Management System (BIMS) as the government seeks to rein in rogue operators.
Read More
In a meeting with the 47 regional chairpersons of the Boda Boda Safety Association of Kenya, ICT, Innovation and Youth Affairs Cabinet Secretary Joe Mucheru said the initiative will go a long way in supporting the sector.
"This is a programme we hope to complete in the next few months to ensure all riders are trained and obtain requisite skills and licenses," he said. "Within the year, we hope we will have appropriate training and safety for the future that will transform the industry," Mr Mucheru added
The CS said the riders will undergo the training in their localities. The government will establish 580 training centres across the 290 constituencies, with each getting two.
"We will work with chiefs to ensure we can access the riders. We need to get to them by going where they are," Mucheru said.
NYS Council chairman Njuki Mwaniki said the training will come in handy for riders who cannot afford to enroll in driving schools.
Among the issues to be addressed in the training are discipline and obedience to traffic laws and the highway code.
The riders will be educated on the basics of maintaining their motorcycles, road courtesy and will also be equipped with first aid skills.
"We hope to complete this exercise in the next three months. We have more than 60 per cent of unlicensed boda bodas, and these are the people we are targeting," he said.
Lt Gen Mwaniki further added they have a capacity to train 1.4 million riders. "We have 21,000 members of the NYS equipped with the skills to teach these riders," he said.
Kevin Mubadi, the Executive Chairman of the Boda Boda Safety Association of Kenya, said BIMS, an online boda bodas registration platform, will be reinforced by the licensing and will be a big boost to the industry.
He regretted that lack of licences meant that most riders cannot access insurance claims when involved in accidents.