Court orders State to give details of Kalonzo 'message' in land row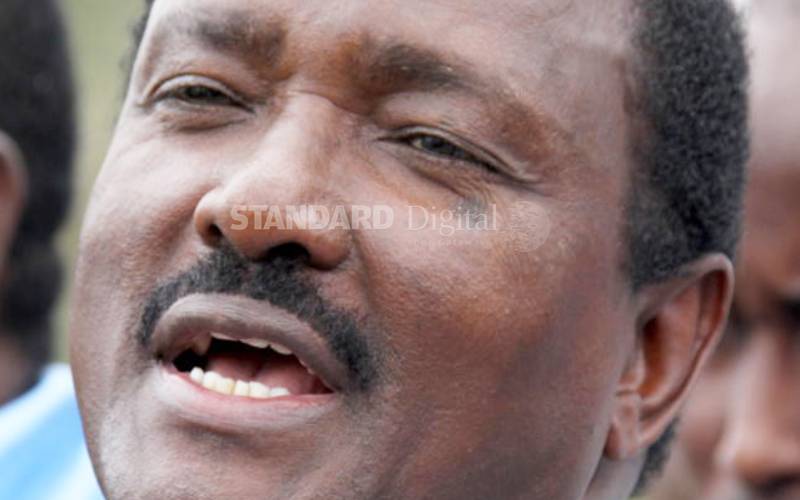 The High Court has ordered the State to disclose details of an alleged communication between former Vice President Kalonzo Musyoka (pictured) and security officials regarding a disputed parcel of land.
Justice Alfred Mabeya issued the order after an application by a murder suspect who said he wants the information to prepare his defence.
The suspect, Joseph M'Ikamati, claimed on Monday that the Wiper party leader has an interest in the 2,000-acre land in Meru North.
The land is part of the 10,000 acres that is occupied by Akachiu, Uringu, Atubaita, Antubakuru and Akithigi clans.
M'Ikamati is accused of killing one George Mithika on October 4 at Kianda village in Igembe South over the land.
He claimed Mr Musyoka is using government officials and local elders to advance his interests over the controversial land.
M'Ikamati, through lawyer Kirimi Mbogo, claimed the land in which Mr Musyoka has an interest is located in Amung'enti 'D' adjudication area and belongs to the five Meru clans.
M'Ikamati went to court on October 26 this year, under a certificate of urgency after murder charges were preferred against him. He asked the court to help him get details of the alleged communication.
Also, the suspect wants the State ordered to produce security reports said to have absolved Musyoka from blame after the violence that rocked the property leading to the death of Mithika.
Justice Mabeya observed that the State, represented by lawyer Patrick Namiti, had not denied the existence of alleged communication between its officials and Musyoka, and ordered that it be supplied to the defence.
But the judge declined to order Musyoka to record a statement over the violence that resulted in the death of Mithika, saying the State had clearly absolved the politician of any involvement.
"The State informed the court that Kalonzo had not made any statement in regard to this case. It was also not clear what role, if any, he may have played in the incident. I therefore see no basis to order him to make a statement," said the judge.
The court granted the accused a Sh500,000 bond with a similar surety, saying he had demonstrated good behaviour while out on police bond. The court also noted there had been no objection to his application to be released on bail.
The judge described land adjudication in Meru North, which has never been completed since independence, as a ticking time bomb, due to numerous land disputes.