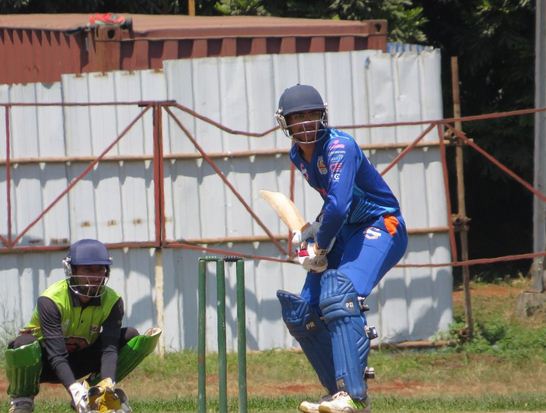 Sikh Union Cricket Club 'A' on Sunday delivered the biggest upset of the 2021 Nairobi Provincial Cricket Association (NPCA) 50 Overs League so far as they defeated champions Kanbis A by 2 wickets at their Forest Road ground.
Despite Kanbis posting a paltry 106 runs on the board, the "Simbas" finally savored their maiden win of the season in what came as a pleasant surprise to all and sundry including the playing unit and team management Officials.
Sikh Union now moves a slot up the log from last position to dislodge Obuya Academy from 9th.
The Simbas were the underdogs when it all started but not until the match wore on. They won the toss and elected to Bowl.
But the Sikhs cleaned up Kanbis for 106 and in reply got a shocker and found themselves in the deep end of things but managed to hold on to wrap it up with a two wickets to spare and took the maximum 4 points for the well deserved victory.
Team principal Avtar Singh Kundi and other members of the management were in high spirits and said they look forward to the boys shifting gears in the second round of the competition. "This is just the start of things to come. Watch this space for more surprises, now that the Simbas have woken up" said an elated Avtar, who is also a member of the NPCA Management Board.
Meanwhile, at Park Road, things turned thick for Sir Ali Muslim Club, who also found themselves in a similar uncomfortable position when Cutchi Leva (SCLPS A) bowled them out for 105 in 26.4 overs. Soon SCLPS came to chase the total and found the going equally tough, with Irfan Elani, Prishnu Yadav and Abdul Rehman sharing 6 wickets amongst themselves before Cutchi Leva managed to scarp through with a much savored 4 wicket win.
At the Ruaraka Ground along Thika Road, it was business as usual for the Stray Lions as they saw off the strong challenge of determined Ruaraka by 54runs. Krishna Katukala smashed a blistering century (105) to help Stray Lions cling to the summit of the NPCA log with 36points.
The Swamis have now leapfrogged to second spot with 28 points after they saw off a determined challenge from the ever improving Obuya Cricket Academy at Lenana School., while champions Kanbis dip to third on 24. Sir Ali Muslim Club are placed 4th also with 24 but with an inferior run rate to Kanbis.
SUPER DIVISION RESULTS-WEEK 10
Swamibapa Sports Club A 239/10 (42.3 overs)
Obuya Academy A 140/10 (39.3 overs)
Swamibapa A - Won by 99 runs
Kanbis Sports Club A 106/10 (31.0 overs)
Sikh Union A 109/8 (32.3 overs)
Sikh Union A - Won by 2 wickets
Ngara Sports Club A 135/10 (38.4 overs)
Nairobi Gymkhana A 137/2 (20.4 overs)
Nairobi Gymkhana A - Won by 8 wickets
Stray Lions Cricket Club A 267/10 (49.1 overs)
Ruaraka Sports Club A 213/10 (46.1 overs)
Stray Lions A - Won by 54 runs
Sir Ali A 105/10 (26.4 overs)
SCLPS Cutchi Leva A 106/6 (31.2 overs) Cutchi Leva win by 4 wickets.