Issue new IDs fairly across Kenya, Raila warns over Uhuru order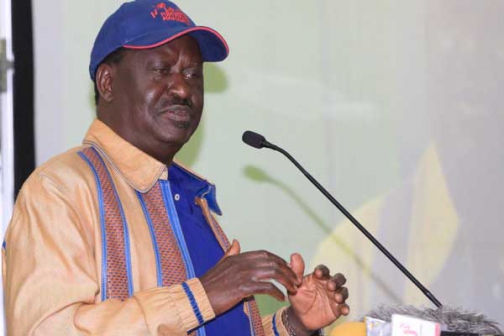 CORD leader Raila Odinga has warned that speeding up the issuance of ID cards must be applied uniformly across the country.
In his Friday tour of Central Kenya to rally residents to register as voters, President Uhuru Kenyatta directed the National Registration Bureau (NRB) to issue identity cards in three days.
Yesterday, Raila insisted that the presidential directive be applied across the board, covering every part of the country and in good time to enable every Kenyan of voting age register as a voter.
"This order must not be implemented in a selective and partisan manner that favours perceived Jubilee strongholds, a trend that has been part and parcel of the Jubilee administration these past four years," said Raila.
The CORD leader demanded that the Ministry of Interior publishes records of the new cards on a weekly basis to enable the public track their issuance and ensure no region gains unfair advantage.
"All Kenyans of voting age must be facilitated to obtain national identity cards through a process that is timely and fair to all," said Raila, warning that the Opposition will accept nothing less.
"This directive, while coming too late, is however in line with our long running position that the National Registration Bureau and the Ministry of Interior had performed below par and are about to disenfranchise millions of would be voters, especially the youth, because of the shoddy and discriminatory issuance of ID cards." He claimed that some people, with help from the National Registration Bureau and the Ministry of Interior, were keen to push for more numbers in the Jubilee strongholds and described as shocking
The CORD leader also raised concern over growing cases of shared identity cards used by different people to register as voters.
"There are deep concerns by the emerging developments in voter registration and shared identity cards used by different people to register as voters," he said.
He claimed that he had established that he shared his Identity Card number 4838593 with one Ms Ombai Maria Anyango who had been registered using the same card in the same polling station where he votes.
"I confirmed this at two different polling stations in Kisii and in Isebania in Migori County.
This happened in the same week that (Wiper leader) Kalonzo Musyoka also discovered that he shares his ID card details with another voter who had been registered with similar details," said Raila.
On Wednesday when Kalonzo went to verify his details at an Independent Electoral and Boundaries Commission (IEBC) centre at Wagberi Primary School in Wajir East constituency, he found that he shared his ID details with Salome Wanjiru Njoroge, who was born in 1993.
"It is now clear what is happening across the country. This explains why the Registrar of Persons has been retained several years after attaining retirement age. CORD will not allow such machinations," Kalonzo warned.
Two ODM MPs want voter listing period extended
Kabondo Kasipul MP Silvance Osele and his Nyatike counterpart Omondi Anyanga (pictured) said because enough civic education was not conducted prior to the start of the mass registration drive meaning many people are not aware what is going on.