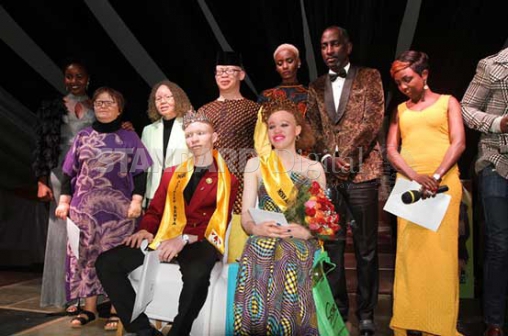 "Different colours, one people" is the song that was playing during a rare and spectacular event. The first-ever Mr and Miss Albinism pageant that went down at Nairobi's Carnivore on Friday.
The pageant, which is part of the campaign dubbed Beauty beyond the skin, was organised by Albinism Society of Kenya to redefine how persons living with albinism are viewed in society.
And there was talent galore.
For example, in the creative category, one of the models appeared on the runway dressed in a black, floor-length hooded gown, bound in chains. As he strutted on stage, some eerie music was playing in the background.
He then broke the chains and the gown fell to the floor to reveal the model dressed in all white. A dove was set free in the process to signify the chains were broken.
That model — Jarius Ong'etta — emerged the winner. For his creativity, gait and boldness, he was crowned Mr Albinism Kenya 2016. The 20-year-old is a student of music at Kenyatta University.
And the Miss Albinism 2016 title went to one Loise Lihanda, a 20-year-old student from Multimedia University.
Beauty and courage
Mr Ong'etta and Ms Lihanda emerged winners among 20 contestants drawn from the 47 counties.
"I am happy to be crowned the overall winner. I will use this title to create awareness on albinism," an elated Lihanda told The Standard on Sunday after being crowned the winner.
The man of the moment said: "This award means a lot to me because I now have a platform to create awareness on albinism. I hope to inspire children living with albinism that they too can achieve their dreams."
The event attracted several dignitaries, most notably, Deputy President William Ruto.
Ruto lauded the initiative and said the Government is commitment to meeting the needs of persons living with albinism. Towards that end, he together with President Uhuru Kenyatta would each contribute Sh1 million to the Albinism Society of Kenya.
"The government will pay Sh37,000 for every child who has albinism to cater for their primary school education. We will also pay Sh70,000 every year for every child with albinism in an undergraduate programme," he said.
The government will also be paying Sh100,000 for post-graduate students. He also announced that the government would make it mandatory for 5 per cent of employment across the board to be made up of persons living with disability.
The founder Albinism Society of Kenya Isaac Mwaura said the pageant hoped to create awareness and showcase the beauty and talent of people with albinism.
"People do not think that persons living with albinism are beautiful, so such women even struggle to get married. We want to redefine our narrative and show that we have something to offer the society," said Mwaura, a nominated MP.
The award is timely and relevant given the many challenges such persons face.
Albinism is characterised by the absence of the melanin pigment that gives people their hair and skin colour and occurs in all races.
Lack of the pigment makes the skin highly susceptible to sunburn and skin cancer. The condition usually also comes with eye problems and most people living with albinism require special eye glasses to manage their sight. Persons living with albinism also face stigma and discrimination from the society.
"When you get a child with albinism, the father usually takes off and as a result, majority of us come from single-parent households. Since people do not want to marry women with albinism, many of them end up as single mothers, which creates a vicious cycle," said Mwaura.
The organisers of the campaign plan to use the funds raised to buy sunscreen lotion, which will be given to all persons living with albinism who cannot afford it. The lotion costs Sh2,000 per bottle.
Entertainment was also in plenty at the lively event. Gospel musician Bahati, who caused a stir last month when he sat of the President's chair during the launch of Jubilee Party, brought a light moment when he assured the DP that his seat was 'safe'.
The winners will act as brand ambassadors for people living with the condition. They each received Sh50,000, a fully paid scholarship for a diploma in Management at the Kenya Institute of Management, free specialised glasses from Rafiki Opticians and entrepreneurial education courtesy of Toyota Kenya. Other prominent personalities present Labour Cabinet Secretary Phyllis Kandie and her Principal Secretary Susan Mochache. Dorothy Nyong'o mother of Oscar winner Lupita Nyong'o, was also present. Coincidentally, Lupita produced a documentary in 2009 titled In My Genes, which focused on the challenges persons living with albinism face.