Decision to close Kakuma and Daadab refugee camps painful, says CS Amina Mohamed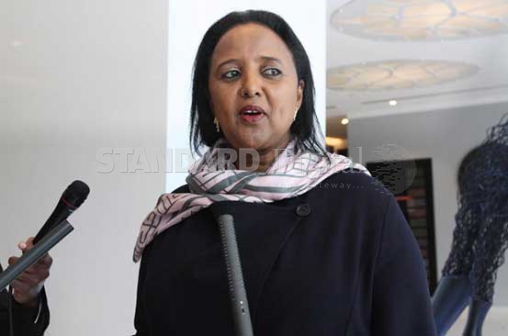 Lack of international support informed decision to close down Kakuma and Daadab refugee camps, Foreign Affairs Cabinet Secretary Amina Mohamed has said. The CS said although it was painful, there was little Kenya could do.
"Running the department was too costly for the country; some developed countries in the world cannot host even 10,000 refugees, while we at one time gave a home to a million people. This is national resources, tax payer's money," said Amina.
On Friday, Interior Principal Secretary Kibicho Karanja announced that the State will close down the camps due to national security concerns and financial constraints. The fate of over 600,000 refugees now hangs in the balance.
And speaking yesterday on the sidelines of an African Union Ministerial Retreat, Amina said Kenya has had a long history of hosting refugees from the region, but pointed out that in recent years support from the international community has not been adequate.
She said after hosting some of the refugees for more than 25 years and entering into tripartite agreements with their countries of origin and the United Nations High Commissions for Refugees, some of the agreements made in 2013 were reneged.
"Burden sharing is very critical in this matter. Hosting refugees is not Kenya's sole responsibility, not even a regional one, but a global and international obligation. Everyone in the world has a role to ensure the well-being of these people," said the CS.
In April last year, after the Garissa University College terror attack, Deputy President William Ruto ordered the United Nations to close the Dadaab refugee camp within three months and relocate the Somali refugees.
The government, however, backtracked on the plans to close the camp a month later, after President Uhuru Kenyatta met with US Secretary of State John Kerry and representatives from the UN.
Meanwhile, NGOs have condemned the move. Amnesty International's Regional Director for East Africa, the Horn and the Great Lakes Muthoni Wanyeki said the decision is contravention with Kenya's obligations under international law. Liesbeth Aelbrecht, the Medical Charity Doctors without Borders Head of Mission in Kenya urged the State to reconsider the decision.