Vicious cycle of annual famine continues to haunt Kenyans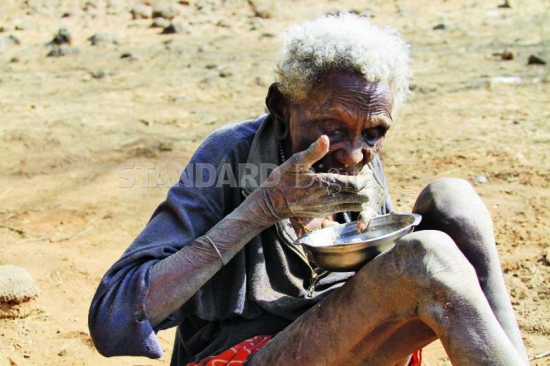 Year in year out, large swaths of Kenya go through a vicious, dehumanising cycle that exposes local people to the vagaries of famine and extreme hunger, leaving no option but to survive on government-sanctioned aid programmes. This year, the situation is no different.
But even after it has become clear that the world cannot survive on rain-fed agriculture, and that proper food policies are a must for a bursting population, Kenya is still left exposed. Kenya still cannot feed her children.
Last week, Devolution and Planning Cabinet Secretary Anne Waiguru announced that 1.6 million Kenyans in 23 arid and semi-arid counties are faced with famine and will need assistance in the next six months.
During this period, between Sh2 billion and Sh3 billion will be spent on aid for the hardest hit areas.
However, as this is going on, in other parts of the country, there is excess food.
"We know that rain-fed agriculture is no longer reliable. However, the failure isn't total and there should be enough food in our stores and reserves to feed Kenyans," food security specialist and consultant Nickson Magut told The Standard on Sunday.
Magut said the year in, year out crises are the result of a failure in strategy and an absence of cooperation among those charged with the responsibility of ensuring the country's food security.
"Coordination between different arms of government can go a long way in alleviating the hunger problem," he said.
Strategic reserves
Kipkorir Menjo, a director at the Kenya Farmers Association (KFA), agreed with Magut's sentiments.
"It is ironic that most National Cereals and Produce Board stores are full even as more farmers deliver last season's harvests," said Menjo.
He said Trans Nzoia and Uasin Gishu counties, Kenya's bread baskets, have the potential to produce more than 10 million bags of maize a year.
Data from the National Cereals and Produce Board (NCPB) shows that the 23 counties facing famine have less than a million bags of maize in stocks set aside for them by the organisation, which is also the country's custodian of the strategic grain reserves.
In an exclusive interview, NCPB managing director Newton Terer told The Standard on Sunday that the affected counties have 583,548 bags of maize (each of which is 90kg) in stock at various depots across the country. Another 303,279 bags were pending transfers, bringing the total to 886,827 bags of maize as at February 24.
"Following declaration of famine in these arid and semi-arid counties, it is now upon the Government to carry out an assessment and give us an updated report on what it will require from the strategic grain reserves for relief supplies in the coming months," said Terer.
Terer said NCPB has a total of about four million bags of maize in its reserves, and expects to buy another 1.5 million bags from farmers in high-production areas.
"Before the current buying season, we had 2.7 million bags in our reserves, but we have since purchased 1,274,228 bags, bringing the total to 3,974,228. The buying is still going on," said Terer.
He said the country's upper strategic grain reserve limit should be four million bags of maize in commodity form and another four million in cash form.
"The Sh3.2 billion the Government provided for the purchase of the current harvest only paid for 964,285 bags of maize from farmers. The Government urged us to continue buying grain as it sought more funds and we have so far purchased 1,274,228 bags of maize that are yet to be paid for. We urge patience because payments will be made as soon as funds are made available," explained Terer.
Maize is the staple food for a large proportion of the Kenyan population in both rural and urban areas. Maize consumption is estimated at 98 kilogrammes per person per year, which translates to an annual national consumption of roughly 30 to 34 million bags (2.7 to 3.1 million metric tonnes).
However, national maize production has not kept pace with consumption.
Over time, food imports and aid have bridged the gap, with trends showing a strong tendency towards increased dependence on imports. Kenya has been importing maize from Uganda and Tanzania in addition to large offshore imports from as far away as South Africa, the USA, Brazil and Argentina.
At the same time, because maize is produced in surplus in parts of the Rift Valley and Western regions and distributed to parts of the country experiencing deficits, there have been cases where, due to administrative difficulties, famine is experienced in these deficit areas while the rest of the country has a surplus.
These issues, coupled with the growing reliance on imports of maize to bridge seasonal supply shortages, point to lack of a clear and effective framework to govern the sector.
"The result is a history of erratic supply of maize which, every time it happens, seems to open the door to speculative behaviour for various actors, including unscrupulous middlemen," reads a report from the Africog think tank on the 2008 maize scandal.
Menjo says there is a serious policy lapse.
"It is ironic to see that some Kenyans are facing drought and yet many farmers in the North Rift are waiting for lorry loads of maize to be bought by the Government," noted Menjo.
"For a country to make progress, it should be self-sufficient in matters of food. This will enable the Government to concentrate on development programmes."
Before Parliament went for the December recess, farmers had presented a petition for a supplementary budget that will give NCPB additional funding to enable it buy enough stocks of maize.
But even as farmers in the North Rift grain basket await their payment, almost a third of the counties affected by the current famine are also from the former Rift Valley Province. Turkana, West-Pokot, Baringo, Laikipia, Samburu, Kajiado and Narok are among those facing a food deficit.
Outside the Rift Valley, Eastern and Coast regions, other counties affected by famine are Nyeri in Central Kenya, and Garissa, Wajir and Mandera in the former North Eastern Province.
The Coast region has five counties affected;Taita-Taveta, Lamu, Kilifi, Kwale and Tana-River, while in the former Eastern Province, Machakos, Makueni, Kitui, Embu, Marsabit, Isiolo and Tharaka-Nithi are facing food shortages.
According to the data provided by the NCPB, among the affected counties, the Machakos depot has the largest stocks of maize, with 9,371 bags. Konza has 93,611 bags, Kathimani 7,996 bags and Tala 8,334 bags.
While Konza has an additional 60,000 bags pending transfer from the Moi's Bridge NCPB depot in Uasin Gishu county, Kithimani is expecting 8,500 bags from the Kitale NCPB depot in Trans Nzoia County.
Stop emergencies
Following Machakos County in terms of stocks is West Pokot, with Kapenguria having 45,468 bags of maize and Sigor 17,137 bags, but there are no pending transfers.
Baringo and Mandera counties are each expecting 30,000 bags of maize to be transferred to their depots. Tharaka Nithi is awaiting 44,000 bags of grain to be transferred there from the Kitale and Moi's Bridge NCPB depots.
Laikipia County is waiting for the transfer of 29,000 bags of maize while Wajir is expecting 28,000 bags of maize from Kipkaren-Salient NCPB depot in Nandi County.
Garissa county is awaiting 20,000 bags of maize from Kipkaren River depot in Uasin Gishu, and Samburu, Isiolo, Nyeri, and Narok counties are each expecting 10,000 bags of maize.
Despite the prevailing conditions, Waiguru has said the Government is committed to stop drought emergencies by the year 2022.
"But what do we do currently? Should Kenyans resign themselves to an annual cycle of hunger until then," posed Magut.
Data from NCPB shows that Kenya's standard grain reserve is well within getting to its required levels, so all hope is not lost.