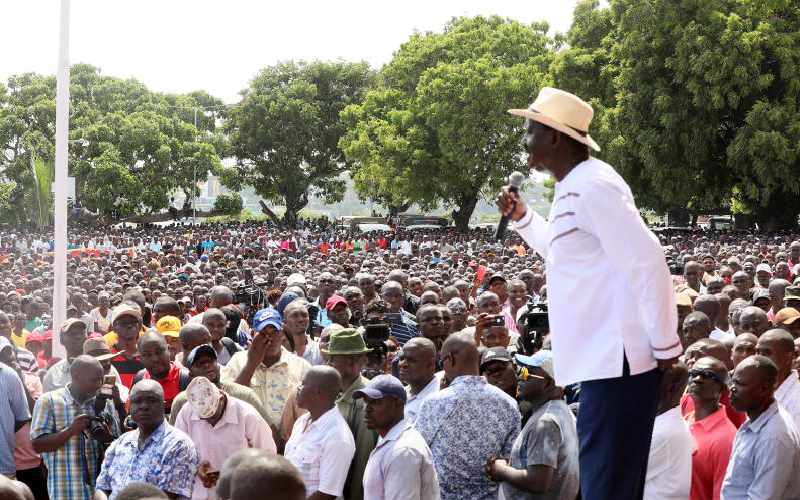 Today I want to entertain a scary thought that Raila Odinga may not be in the 2022 ballot. Before someone throws a tantrum at me, think like this; what if that is what BBI is all about?—just like he and Uhuru have been telling us? I know this is a political felony given that his followers don't want to entertain a situation where anyone purports to pull a Raila-sized crowd in his political backyards. Isn't that 'political plagiarism'? However, since political analysis turned agenda setting is akin to propaganda; it is wise always to hang the hide so that the other side dry too—that's what I'm doing today.
The last politically lazy thought I will entertain in my head is that Uhuru will endorse Raila for 2022. Although it's a possibility, it has very slim chances, and Raila might be aware if so far his body language is something to bank on. Methinks it could have been the agenda of the 2018 handshake, and the secret plan tucked in the building bridges initiative. I could be rightly wrong. If I'm wrong, then Uhuru's 2022 choice could surprise many—and this is direct from stallion's mouth.
I will risk fiddling with the imagination that jubilee presidential candidates might be picked from among Musalia Mudavadi, Gideon Moi, Kivutha Kibwana, Kalonzo Musyoka, Mukhisa Kituyi and or Peter Kenneth—to present the most likely multiple choices. The propensity toward neutral characters a time like this is not new in Kenya—it was used to launch Moi and later Kibaki. The events leading to Moi's presidency we know and those concerning Kibaki presidency we can vividly remember.
Kibaki was nurturing his broken leg in the hospital when in 2002, political brokers went to him with good news—we want you to be our president'. Really? Just like that, he smiled all the way to the statehouse that he had sought with his resources and youthfulness in vain for years. Kibaki had served politics in his young age and time had come when he found no pleasure in politics, so he was retiring. However, when all hope was lost, and his political womb was as good as dead, his candidature brought a moment when analysts say Kenyans' graph of hope recorded an unprecedented upward trend.
Read More
Methinks Raila and Uhuru could be laying grounds for a similar scenario. If the mission and vision of Raila and Uhuru are to deny Ruto presidency—as Ruto has claimed severally, then Raila must drop his presidential ambitions. Note that this country reaps a lot of political gains whenever Raila sacrifices his political bids.
Therefore, if Raila and Uhuru are preparing for victory, then they must replay the 2002 events. I'm sure Uhuru's choice is known to Raila Odinga—that is if Uhuru wants no trouble. That's why they must do the roadmap together for BBI to go through.
To ordinary mortals, my seraph could be wrong. This sign will be proven right if Uhuru names his 'surprise', and Raila keeps his peace. But there is a condition to it—BBI must have passed.
So what's in a BBI? Of course, the walls of the BBI, the one that went back to the cooking pot, were decorated with solutions to social evils like; corruption, ethnic antagonism, ethnic competition, and divisive elections. It further promises to entrench national ethos, strengthen devolution, boost citizens' safety and security, enhance citizen rights and responsibilities, and bolster inclusivity and shared prosperity.
These are the icing in the BBI cake—the main cake is what will make Raila drop his ambition for another candidate and remain in power post-2022. If you know, you know.
That doesn't mean that Raila will be used though. It means he will score thrice. First, he will secure himself a legacy as an agent of change; two, he will retire gracefully while sitting atop Kenya's politics, and three, Baba will be there to influence 2027 succession politics.
What if I'm wrong all along? Then, if Raila in his heart covets 2022 presidency, it could be a betrayal of the handshake. Whoever critiques the 2002 events might interpret the political signs accurately.
What about Ruto and his factors? If I am right and BBI fails, Ruto will either have a competitor or a political ally in Raila. But If the BBI goes through, Raila might stand as a kingmaker against Ruto; only this way, Raila will rock the political streets. Either way, Ruto must prepare for a political battle.
For Uhuru Kenyatta, BBI could be his defining moment. Its failure could mark his end in influencing the 2022 succession politics. Again I could be wrong. But my political seraph hints that, should Raila leave Uhuru, he will lose—ambiguity intended but, either interpretation is valid.
-Dr Michael Ndonye is a Political Economist of Media and Communication