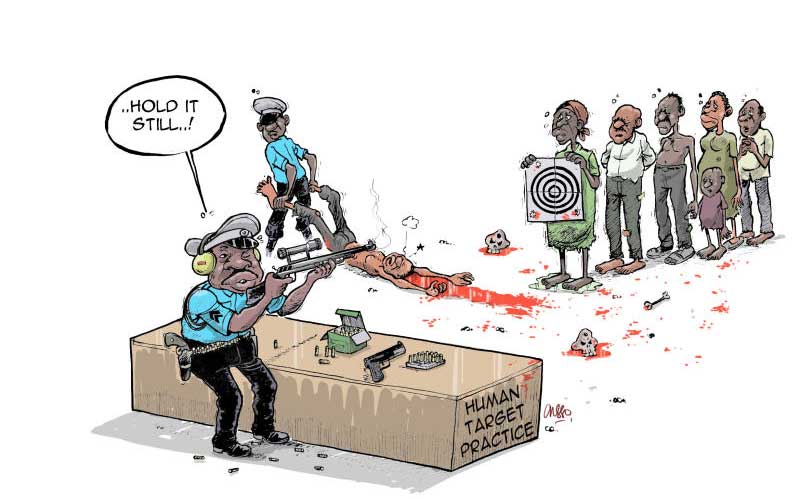 There is one great enemy in our country, greater than all others. The enemy threatens our ability to grow and prosper. It prevents our upward trajectory and risks harming the very essence of Kenya.
It is not even the coronavirus pandemic - which many though appreciating its scale - is a relatively new phenomenon that may disappear in coming months as quickly as it came. It is not the locust infestation or global warming threats to our ecosystem, though these too are grave.
And it is certainly not the question of who will succeed President Uhuru Kenyatta in 2022, because the people who are doing all the politicking now will wake up in a few years and realise they have spent more than three years wasting time.
The greatest threat to Kenya is corruption. Corruption kills and disadvantages more people than disease. No wonder the moniker cancer. It denies the vulnerable much needed healthcare and a leg up in education and other essential services. It skews allocation of opportunities thereby denying many a fair shot at life. It gives an undue advantage to the moneyed.
Read More
For example, we all know what it is like to have to give a bribe in hospital, at our children's school or on the road.
And we barely blink an eye before another news report tells us about graft at the highest levels of society, with wealthy businessmen and political officials closing deals for the benefit of their pockets.
Heightened awareness
It is just so commonplace these days. Though while it sometimes seems that corruption is occurring even more in recent months, we take comfort in the hope this heightened awareness of it is actually a result of ongoing anti-corruption campaign. Maybe if it is more in your face, more talked about, more on the map, it will lead us as a society to call an end to it.
The campaign has certainly been helping the non-corrupt forces in government stop the corrupt ones from proceeding with their plans.
Recently, a worrying crime was exposed in Mutunduri, Embu County. A police officer was accused of raping a female inmate under his watch. This is not the first time a police officer is being accused of sexually assaulting a female inmate. A few months ago, a different officer was charged with sexually assaulting a 15-year-old minor.
There is never any excuse for sexual harassment, and especially not at the hands of those who purport to protect the law. Professional crime-fighters should do exactly what they are paid to do. Rather, it is all too common for them to abuse their power.
Rampant racism
The current American crisis over police violence is worrying to watch. The Black Lives Matter movement, which stemmed out of a place of deep-rooted frustration with the inequality in the nation's entire social fabric and rampant racism, particularly in the police force, has some similarities with our own struggle against corruption.
People in the US are not only protesting but rioting because they have had enough. No law enforcer should operate with impunity whether in the US or in the streets of Nairobi.
While the murder of George Lloyd and the rape of the female prisoner in Embu are different crimes, they are crimes of corruption no less.
And corruption must be stopped in all its forms. If we let it go on, we risk protests and riots at the scale that America has been seeing. Luckily in Kenya, things are more under control.
The president's focus now is dealing with the coronavirus crisis while at the same time addressing more deeply rooted problems, in particular, corruption. This is in contrast to President Donald Trump, who seems incapable of adequately dealing with the global health pandemic and has shown absolutely no interest in addressing anti-black racism and police violence.
However, not every police officer, or politician, or other person with power is the enemy. Many of these people have worked hard to get to where they are and have gone into public service to give something back to their nation. And for those men and women, we should be thankful.
But for all of the rotten apples in between, we have the anti-corruption campaign to remove them so that the whole bunch is not spoiled.
Mr Guleid, former Deputy Governor of Isiolo County, is CEO of FCDC Secretariat