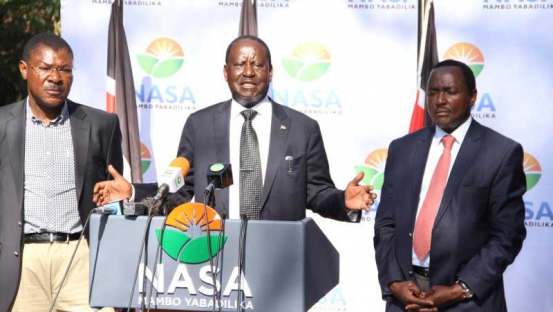 Forget the use of arms and ammunition in modern warfare. With war crimes now prosecutable as crimes against humanity, antagonists are seeking ingenious ways and all manner of tomfoolery to settle scores. Consequently, battlegrounds are gradually shifting from the dusty and bloody killing fields to antics tied to the world of intelligentsia.
What better method to use than manipulate set systems and use kite-flying lingo to delegitimise them? One of the most effective ways is the use of law and the legal system to harass opponents, a strategy defined as 'lawfare.' According to the Western Journal of International Law, "lawfare is a form of asymmetric warfare, consisting of using the legal system against an enemy, such as by damaging or delegitimising them, tying up their time or winning a public relations victory."
Now, doesn't that sound familiar in our current political situation? Since the year began, NASA has regularly called press conferences and threatened to sue government officials for election related errors of omission or commission. Specifically, the Independent Electoral and Boundaries Commission (IEBC) has been on NASA's crosshairs, with legal suits on its preparedness to referee in elections.
Read More
In the run-up to the August 8 elections, NASA and its leader Raila Odinga stated that the coalition had at least 21 pending suits against the IEBC. One of the critical suits at that time, involved the unsuitability of the Dubai based Al Ghurair Printing Company to print ballot papers, allegedly because of its close business association with the First family. Currently, NASA has stated its intention to sue top IEBC officers, including CEO Ezra Chiloba, whom it says are culpable in the supposedly botched presidential elections.
The foregoing actions by NASA are in line with Charles J. Dunlap Jr.'s 2001 essay, in which he defines lawfare as "the use of law as a weapon of war." This brings me back to the current 'artificial' political tension in the country that NASA has fomented over the last several months. The opposition party has duped even the intelligent among us of their real intentions.
While Jubilee was all over the country campaigning for its presidential candidate Uhuru Kenyatta, NASA principals led by Raila spent most of their time in courts. But having failed to coerce the courts of law to do their bidding in derailing the elections, the alliance crafted a plan aimed at discrediting the elections.
In fact, lawfare is inherently nefarious. Although it looks like something positive aimed at pursuing justice, it misuses legal processes to intimidate and frustrate opponents, real or perceived. The Lawfare Project defines lawfare as "the abuse of Western laws and judicial systems to achieve strategic military or political ends".
For lawfare to achieve full effect, it needs a dose of crafty media manipulation and intense propaganda. Of course, you will have noted that NASA has also used tactics like logical fallacies, psychological manipulation, outright deception, use of rhetoric and diversinary tactics. That is vintage NASA for you! Its activities bear all the hallmarks of lawfare, deceit and seeking of public sympathy while posing like a hopeless underdog.
- The writer is the MP for Gilgil