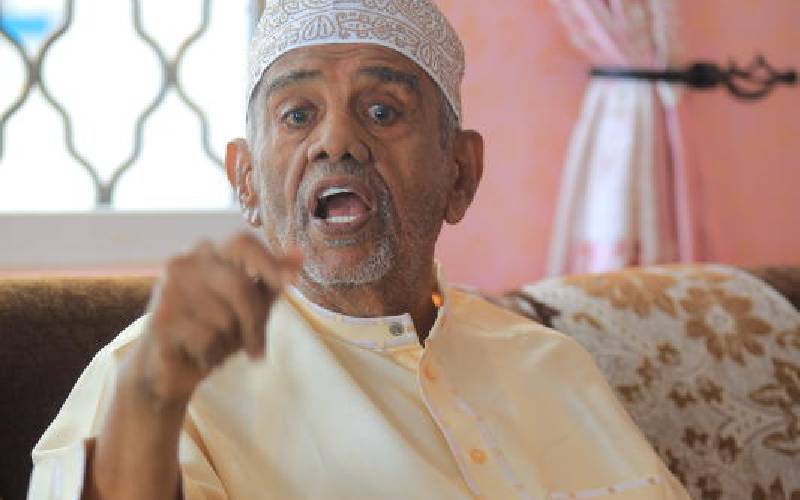 He had a chequered political career spanning 20 years serving as Kisauni Member of Parliament.
Said Hemed, 77, has seen the good, the bad and the ugly, including waging political battles in the local and national stage.
And even after quitting active politics in 1992 after losing his seat to Prof Rashid Mzee of Ford-Kenya, Hemed now closely follows political developments from his home at Mombasa Old Town.
On May 16, Hemed was among political supporters of Mombasa ODM governor aspirant Abduswamad Nassir present when he unveiled his running mate Mr Francis Thoya at Serani Grounds.
He walked into the hall with the aid of crutches following a spinal injury two years ago that forced him to undergo surgery in India.
"I am no longer active in politics because of mobility challenges. But I occasionally attend political events when invited. I do not support (Mike) Sonko's shift from his Nairobi political base to Mombasa.
"I am, however, excited about the nomination of Martha Karua as Raila Odinga's running mate. It makes Kenya come closer to Tanzania which has a woman at the helm," Hemed said.
The former powerful politician noted that a lot has changed since he retired from elective politics. Apart from backing devolution and the introduction of the National Government Constituency Development Fund (NG-CDF), he was opposed to the 10-year presidential term limit.
"Limiting the term to 10 years does not give the president enough time to implement his development agenda as was the case in the past," he argued.
The former assistant minister for Environment and Natural Resources who served as MP for 15 years from 1974 to 1983 and then 1988 to 1992, fought many battles to defend his turf.
Njonjo sympathisers
He waged a political battle with former Kisauni (then Mombasa North) MP Salim Abdalla Mwaruwa who pushed him into the cold for one term before he regained power in 1988.
He said this followed a campaign against him and others who were accused of being sympathisers of former Constitutional Affairs minister Charles Njonjo, who was alleged to have aimed at replacing President Moi by recruiting MPs to his side. He noted that the campaign was so intense that he was suspended from Kanu.
"I had no problem with the president. I did not go against the party rules. Some individuals were behind the false claims. But I was later vindicated and reinstated; which made me win back the Kisauni seat in the following election," Hemed explained.
Back in Mombasa, Hemed at one time in the late 1980s engaged in physical combat with his rival Mr Karisa Maitha during a meeting following political differences over the Kisauni parliamentary seat.
"We engaged in a physical fight after he rudely stormed our meeting without invitation. The two of us had to be separated as we went for each other's throat," he explained.
Maitha would be later elected Kisauni MP in 1997 on a Democratic Party (DP) ticket replacing Prof Mzee.
According to Hemed, the opposition wave cost Kanu the Kisauni, Likoni and Changamwe parliamentary seats in 1992.
Mombasa Kanu supremo Nassir was then dislodged as Mvita MP by Najib Balala in the Narc wave of 2002.
In the mid-1990s, Hemed, who was Mombasa Kanu branch vice-chairman, briefly toppled his chairman Shariff Nassir after President Moi told the latter at a public meeting in Mombasa to retire and hand over to a younger person.
But after a few days of power struggles, Nassir and his supporters went into a frenzy after he regained his seat.
"I enjoyed cordial relations with Nassir. The confusion that arose as a result of infighting within the Kanu branch. I did not stage a coup against him," he explained.
He was also close to former President Mwai Kibaki and former Cabinet minister Ronald Ngala.
He is also nostalgic about staying close to Moi.
"I felt great to host the president in Jeddah for three days and another three days in Riyadh. I have sentimental feelings about the close ties I enjoyed with President Moi. I hosted President Moi twice when I served as ambassador to Saudi Arabia. He trusted me a lot," he said.