Manyani prisoners battle warders following inmate's death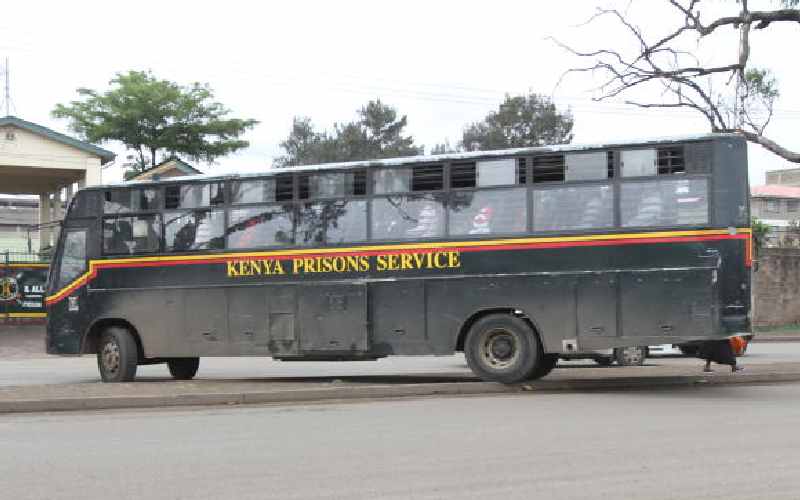 Chaos erupted at the Manyani Maximum Security Prison between prisons officers and inmates on Friday morning following the death of an inmate in mysterious circumstances.
There was conflicting information about the death, with inmates at one of the largest correctional facilities in the country claiming their colleague died of torture, claims the authorities denied.
The inmates alleged their colleague was a victim of torture that has been going on in the facility unabated.
Taita Taveta County Prisons Commander Bison Madegwa confirmed the death but denied claims the inmate was tortured to death.
He said the inmate died at the Voi County Referral Hospital while undergoing treatment.
Madegwa, who is also the officer-in-charge of Manyani Prisons, said the deceased had been receiving treatment at the hospital until his untimely death in the morning.
"The deceased has been receiving treatment at the hospital for one week. He has been suffering from blood clot where several tests had been conducted on him at the hospital," the prisons commander told The Standard.
Madegwa said a postmortem examination will be conducted on the deceased to determine the cause of death.
Some of the causes of blood clot include serious injuries, smoking, trauma, obesity and certain cancers.
"The inmate's death is not as a result of torture as claimed by certain quarters. The postmortem examination to be conducted on his body at a later date will unravel the circumstances under which the inmate met his death."
Madegwa sought to exonerate his officers from blame.
Back at the facility, there was an altercation between the prisons officers and the inmates when the news of the death broke out.
The prisoners claimed their colleague was subjected to beating before he died at the facility.
Intelligence sources said scores of prisoners were injured as they battled it out with the prison warders over the death.
The inmates claimed their colleague died at the facility before his body was removed and taken to the mortuary. "The deceased was treated at the Voi hospital on Thursday before he was brought back to the facility and died."
As the authorities tried to remove the body to the mortuary, inmates blocked them and a fierce battle ensued.
The prisoners were overpowered and the authorities managed to transport the body to the hospital mortuary, said a source at the facility.
Madegwa vehemently denied the claims, saying there was no fight that took place at the facility.
He however confirmed there are troublesome inmates who were recently transferred to the penal institution. "We have more than 50 hardcore inmates brought to the facility from Kamiti Maximum Security Prisons and Naivasha. They are jailed of murder among other capital offenses. They are bothersome," he revealed.
The incident comes shortly after dozens of inmates at the Voi Remand Prisons rioted and protested over alleged torture by prison warders.