President Uhuru and other leaders mourn veteran politician Masoud Mwahima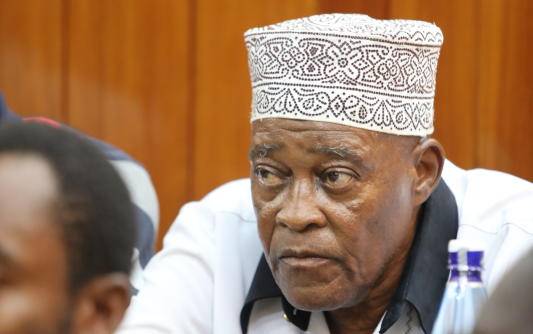 President Uhuru Kenyatta has sent a message of condolence to the family, friends and relatives of former Likoni MP Masoud Mwahima (pictured above) who passed away Monday night.
In his message, the President remembered Mwahima as an elder statesman, witty leader and astute grassroots mobiliser who leaves behind a huge legacy of development.
"Mzee Mwahima was an approachable, witty and, visionary elder and leader who offered wise counsel and outstanding service to the people of Mombasa especially his Likoni Constituency for decades.
"As a politician, Mzee Mwahima was a strong champion for community development projects, a trait that enabled him to rise through Mombasa politics having served as a Councilor, Mayor of Mombasa and MP for Likoni Constituency for two terms," the President eulogised.
Hon Mwahima, 78, served as Deputy Mayor and later as Mayor of Mombasa from 1999 to 2002 before being elected Likoni MP in 2007, a position he served for two terms. Previously he was Councilor for Shika Adabu ward and Likoni KANU branch Chairman.
The President wished the family of the Hon Mwahima and the people of Likoni God's comfort as they come to terms with the passing away of their patriarch and long-serving leader.
Mombasa Governor Ali Hassan Joho also sent his tribute to the late former MP who served with him under ODM party for 10 years.
"Mombasa is engulfed in sadness as we mourn the demise of one of our prominent elders and leader, Mzee Masoud Mwahima. He was a pillar of strength and always stood firm in defence of the people of Likoni and Mombasa at large," tweeted Mombasa governor Hassan Ali Joho.
Malindi MP Mohammed Ali also sent his condolences to the family and friends of Mzee Mwahima.
Similar sentiments were echoed by Vice President William Ruto who remembers Mwahima as a steadfast servant of the people of Likoni.
"Masoud Mwahima served the people of Mombasa, and in particular, Likoni, with sustained commitment, passion and integrity… a tenacious debater whose domination in our country's political scene will be fondly remembered," read the tweet by the Deputy President.
Mwahima was also remembered by The Orange Democratic Movement (ODM), his party as Likoni MP from 2008 to 2017.
"We join the people of Likoni Constituency and Mombasa County in mourning the passing on of Hon. Mwalimu Masoud Mwahima, the former MP for Likoni Constituency in Mombasa County," read the tweet by ODM.
The late Mwahima has also served as a Mayor in Mombasa City council (1999-2002) and as Kanu chairman in Likoni before being elected as area MP on ODM ticket from 2007 to 2017.
Mwahima died on Monday night at 11 pm at his home in Vyemani, Likoni Sub-County, Mombasa.