Oil spill is killing us, Taita-Taveta residents tell Governor Mruttu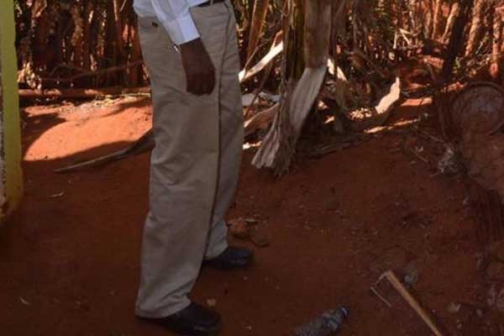 Taita-Taveta County residents living in villages where an oil spill happened last month want compensation to treat respiratory diseases. Residents from Miasenyi and Majengo Mapya villages, told their Governor John Mruttu that since the spill happened last month there has been an upsurge of respiratory diseases.
On December 17 last year, the main pipeline that snakes into several villages, burst spilling volumes of oil around. The pipeline is owned by the Kenya Pipeline Company. According to locals, more than 150 villagers were affected. Narrating their ordeal during Mr Mruttu's fact finding mission in the affected areas, the residents demanded compensation.
"The oil spilled over and spread to the farms destroying all the crops. We have started experiencing respiratory diseases like coughing, flue and Asthma. Our banana and vegetable farms have also dried. This thing will kill us," Jackline Matsano cried.
The villagers said learning at Miasenyi Primary has been disrupted because the pupils could not stand the chocking smell.
Chocking smell
"Many children are coughing and sickly. They cannot attend class," said Ms Matsano, the chair of Nyumba Kumi initiative in the area.
The spill has also affected farming activities which is a mainstay for may of the poor households.
"Apart from the We are still facing chest and throat pains many complain of, the oil spill has also left a trail of destruction in our farms. Our crops have been destroyed," said Timothy Mwabili, a youth leader.

Easter Jumwa said the oil company only provided the affected families with bread and soft drink.
"We had starved for a week because we were warned by authorities not to cook food in our houses. The authorities cautioned us that if we lit a match stick, it will spark a fire," she said.

"We are still inhaling polluted air and we need treatment and relief food," Ms Jumwa pleaded.
The five pits dug by the oil company to store the leaking oil are still open.
Mruttu said he had already notified the Cabinet Secretary Ministry of Energy Charles Keter and the Managing Director Kenya Pipeline Oil Company to intervene.

"I have held consultative meetings with senior national government officials on the issue. We need experts to assess the damage caused by the oil spillage. The affected locals need compensation," said the governor.
"Be patient as my government is looking for a solution to the problem. I will follow up the matter to ensure that the issue is urgently addressed," the governor promised.