Over 300,000 residents face starvation in Coast region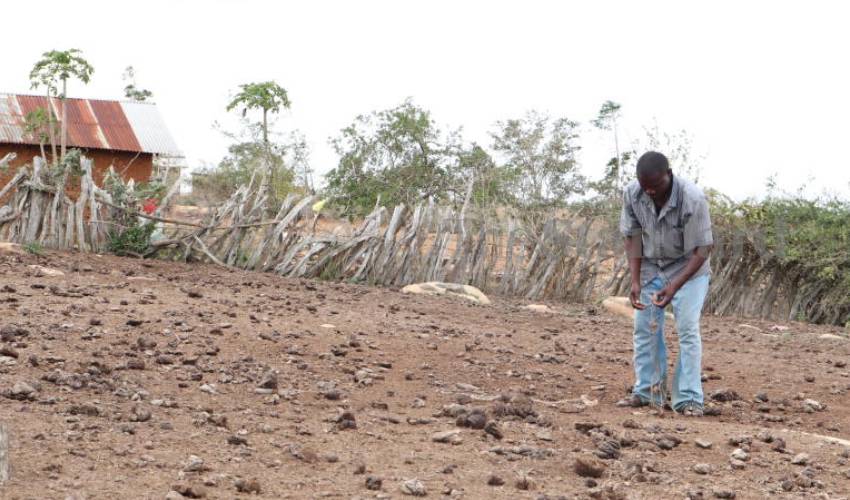 The assistant chief of Mtaa in Kinango, Kwale County, is a troubled man.
Resting his chin on his hand, he appears to be in deep thought.
Jonathan Kombe summons the courage to speak with visiting mothers, some with malnourished babies tied to their backs.
He assures the women that aid is on the way. For Kombe, hope is all he has for his starving people.
But the hope is fast fading for the over 23,600 residents of Mtaa ravaged by famine. Some of them have been feeding on wild fruits to keep hunger pangs at bay.
According to Kenya Red Cross Society (KRCS) Coast region, so far, there are 375,976 persons facing starvation in Coast region.
KRCS further indicated that 90 per cent of water pans have dried up, while the remaining water pans can serve for only a month.
KRCS Regional Manager Hassan Musa further disclosed that livestock productivity is on the decline and might worsen with livestock deaths being reported in affected counties.
Musa said affected persons in Tana River were 78,986; in Garsen North, Garsen West, Kipini East, Kipini West, Bangale, Hirimani, Chewele, Wayu, Sala and Madogo.
In Kilifi, which is the most affected, Musa said there are close to 145,379 persons facing hunger in Adu, Bamba, Ganze, Jilore, Sokoke, Magarini, Dabaso, Kaya Fungo, Mwanamwinga and Kakuyuni.
In Lamu County, some 21,588 persons are facing dire hunger in Basuba ward, Faza ward and Bahari ward.
In Kwale, areas around Kasemeni, Chengoni, Mackinon, Taru and Mtaa have some 130,023 people in dire need of food.
Along the dusty road from Mariakani to Mtaa village, there are skeletons of animals that died of starvation. It has not rained in Kinango in the last one and a half years.
"People ploughed their land in the hope that they would plant food crops and await a bumper harvest, but rains failed them," said Kombo.
"It has been months of agony. Livestock farmers have lost many animals," he said.
He said in the past, the National Drought Management Authority (NDMA) would bring fodder, hay and a special salt for their livestock but this time round, no help had arrived.
Nyumba Kumi elder Chebene Kujai said the elderly are on their own after their children and grandchildren moved to Mariakani, Kinango and Mazeras to earn a living.
"The elderly have been left alone to starve to death," said Kujai, who described the drought as the worst in recent times.
He said livestock farmers moved to areas where there is pasture. He warned that the move could ignite conflict between herders and farmers. "Landowners of areas where there is pasture have resorted to charging exorbitant fees to allow livestock to graze. I will not be surprised if some of the grazing areas are invaded by herders," he said.
Mr Kujai said pupils in day schools have also dropped out and opted to sell charcoal, while others have moved to Mariakani, Mombasa and Kwale towns in search of menial jobs.
"The government should ensure there is adequate school feeding programme in place to keep students in school. We need hay and fodder otherwise the livestock will be wiped out," he said.
At the home of Kassim Chirima Bemwoche, 45, a father of 7 children, it is a story of despair.
"I am hard-pressed to feed my family, and the livestock is getting weaker by the day. I shed tears of despair whenever my kids complain of hunger pangs," Kassim said.
While at his home, Kassim receives a message that one of his cattle has died at the grazing field. He orders the cow to be slaughtered.
Kassim's wife showed us the empty family granary and said that some of her children had stopped going to school since there was nothing to eat.
"The only meal we have had since morning is Ugali and Mchunga (wild vegetable). Maybe we shall be able to get soup from the meat of the dead cattle when my husband returns," she said.
The story is the same at the home of Mzee Chiluku Mpanda, a man in his 70s and a father to eight children.
"I feel weak. At my age and during the Covid-19 pandemic period, I should be able to have a balanced diet," he said.
Ganze MP Teddy Mwambire warns that people in some parts of the Coast could die of starvation if no aid arrives soon. He says locals have resorted to using roots and herbs which they boil and drink for survival.
The MP said that an elderly man from one of the villages had died of hunger. He said some areas had not received rain for more than three years. "People are starving. We need urgent help."
However, Kilifi County Commissioner Kutswa Olaka, who is the chairman of the County Food Security Steering Group, denied knowledge of anybody starving to death in Ganze Constituency.
"That information has not come to my attention," he said.
In February, NDMA warned of drought in Baringo, Isiolo, Kilifi, Marsabit, Mandera, Wajir and Turkana.