Farmers fight plan to outlaw stimulant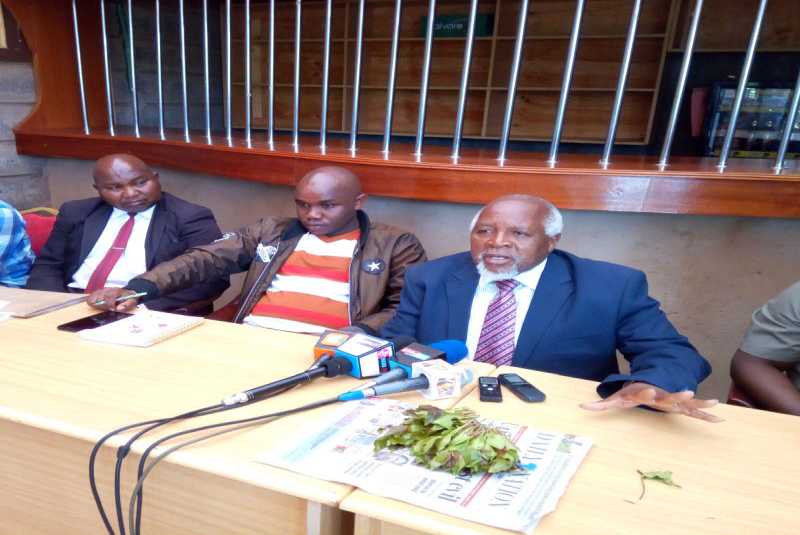 Khat farmers in Kirinyaga and Embu counties have opposed a proposal to ban the stimulant in parts of Coast region.
The Mombasa County Assembly's health committee wants miraa and muguka banned, claiming the addictive stimulants are destroying the region's youths.
This came as muguka traders were kicked out of Tononoka grounds, where they have been operating their businesses for years.
There has also been mounting pressure for neighbouring Kilifi County to ban the use of the stimulants.
Yesterday, muguka farmers said the ban would damage the economies of the regions that grow the crops.
The farmers, who met at Piai market on the border of Kirinyaga and Embu, said there was no scientific research backing claims that muguka had negative effects on users.
"I have been a miraa farmer for over 10 years. The crop has enabled me to educate my children. The community has chewed miraa for many years and no one has been taken ill as a result for chewing it. Our men have not also been affected as some people want us to believe even though they chew miraa and muguka," said Susan Wambui from Kirinyaga.
Ben Kanyenji, a university lecturer and miraa farmer, said some people were politicising an economic activity that supported more than 50,000 people in the two counties.
"Worldwide, no single study has established that muguka has the side effects claimed by those fighting it. We will not take this lying down. We will fight to the end," he said.
Embu Muguka Sacco chairman Laban Njiru said they sold miraa worth Sh10 million daily to Mombasa County alone.
"The money has turned around the fortunes of Mbeere and Murinduko farmers, who wallowed in poverty for many years before they started growing the crop," said Mr Njiru.
"Traders from Mombasa get a share of this money. Instead of fighting us, let's work together. We can even provide them with muguka seedlings as the crop can thrive in some parts of Coast such as Lamu," he said.
Cash crop
Embu Deputy Leader of Majority Muriithi Kiura said no county assembly should ban muguka because the national government had recognised it as a cash crop.
This came as nominated MCA Fatma Swaleh prepared to table a Bill before the Mombasa County Assembly seeking to bar matatu, tuk tuk and boda boda operators from chewing miraa while on duty.
If it passed into law, offenders could be jailed for six months or face a fine of Sh100,000.
Ms Swaleh claimed many marriages had broken down and several children had dropped out of school due to the consumption of miraa.
In Kilifi, a lobby group called Kilifi Mums also wants the local county assembly to ban the sale and consumption of muguka.
But Njagi Kumantha, an expert in drug addiction, said stakeholders needed to find a way to enable farmers to continue earning from the crop while efforts were made to mitigate the effects of the stimulants.