Savers risk losing billions of shillings in co-operatives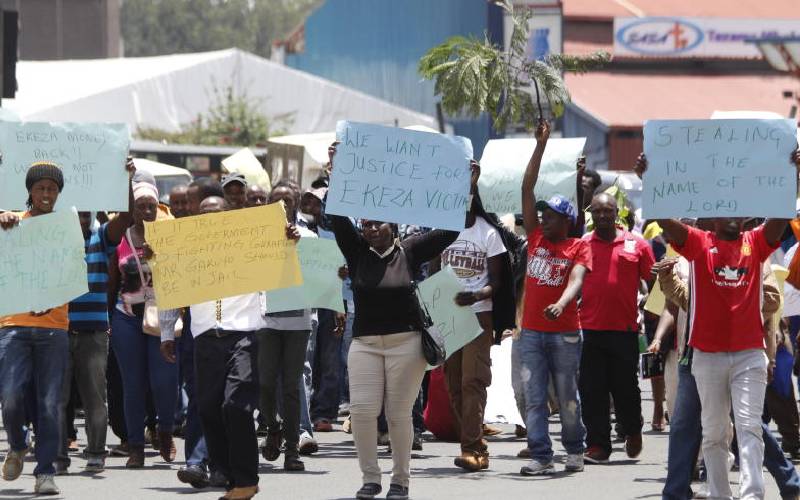 Savers risk losing billions of shillings as authorities crack the whip on co-operatives.
Thousands of institutions are facing imminent closure as a result of mismanagement that has plunged them into financial distress.
Of 7,300 Savings and Credit Co-operative Societies (Saccos), 2,200 failed the test and had their status declared as either "dormant" or "unknown", according to official records.
Nairobi County has the highest number of struggling co-operatives, while Mombasa and Machakos have more dead institutions than thriving ones.
Sources within the Ministry of Trade, which carried out the inspection, disclosed that the crackdown is meant to restore order in the Sh1.2 trillion sector.
At the Coast, roughly half of the 1,150 Saccos registered in the six counties of Mombasa, Kilifi, Tana River, Kwale, Taita Taveta are dead.
Nairobi County has 683 struggling Saccos.
The impending closure of the frail entities comes with painful implications for millions of savers who stand to lose their life savings. Many of the Saccos targeted are already dormant or simply unsustainable.
Serious mismanagement
Fraud and non-remittance of deducted member contributions are at the heart of the high incidence of mortality among these savings organisations that have a membership of at least seven million.
"There have been serious mismanagement issues for several co-operatives, which we are now addressing, specifically among the ones we have picked out for inspection," said Didacius Ityeng, one of the Commissioners for Cooperatives.
He, however, could not immediately provide the list of the targeted co-operatives, but said they had been notified of the punitive measures, and directed to provide respective turnaround plans, if any.
Thousands of grassroots Saccos that draw their membership from the most vulnerable populations have specifically been found to be weak or dormant, informing the need to wind them up or propose mergers if they are to survive.
"We are considering mergers to cut on operational costs as a way out for farmer co-operatives," Mr Ityeng said.
David Obonyo, his fellow commissioner in charge of ethics, concurred that fraud is prevalent among co-operatives, which has informed policy changes that have already been approved by the Cabinet before onward passage to Parliament for legislation.
Personal use
Already cases of Saccos in financial distress have been exposed publicly.
At the Eldoret-based Good Life Sacco, Rachael Wachira has been charged with siphoning more than Sh1 billion in members' savings for personal use.
She is charged alongside her husband, Obadiah Maina, who was last month remanded pending the determination of the theft charges against them.
The giant Moi University Sacco (Musco) and Nitunze Sacco, based in Mumias-Kakamega, had their operating licences withdrawn last year.
Musco's main asset, which is a prime office tower in Eldoret town, is up for sale as part of the liquidation of the Sacco after it was declared insolvent.
Past managers were found to have siphoned billions of shillings from the university workers' savings kitty, but might go unpunished because it ceased to exist as a legal entity as soon as its licence was withdrawn.
An audit carried out by the Sacco Societies Regulatory Authority (Sasra) found a huge financial hole where total available member savings were less than total assets owned.
The regulators admitted the culprits should have been surcharged the lost funds before the licence was withdrawn.
For Nitunze Sacco, the collapse of Mumias Sugar Company exacerbated its financial troubles as member savings stopped coming in.
Shoppers Sacco, which drew a significant proportion of its 19,000 members from the collapsed Nakumatt Supermarkets, is also battling similar problems, with little hope that the employer will ever be in a position to settle the Sh340 million deducted from workers but not remitted to the Sacco.
Among the reasons affecting the monitoring of Sacco operations is the fact that the functions are now devolved, with the Ministry of Industry, Trade and Cooperatives only focusing on policy formulation.
Interviews with officials within the co-operative movement painted a sorry picture for the troubled entities.
However, others with a not-so-clean past, such as Harambee and Ekeza Saccos, might be salvaged owing to interventions from the regulator, the commissioners told The Standard.
Shot dead
Harambee Sacco, which draws most of its membership from employees of ministries, had its finance director, Benson Ojiambo, shot dead at the height of an audit that revealed massive plunder in procurement deals worth hundreds of millions. Investigators have yet to make any progress in finding Ojiambo's killer(s).
And at Ekeza Sacco, founder David Ngare was surcharged the Sh1.05 billion he had diverted from the institution to fund his private housing property development, Gakuyo Real Estate.
Mr Ngare, or Gakuyo as he is widely known, has contested the surcharge in court, even as investigations continue into the firm's operations.
In Kisii, Nyabomite Coffee Society, inspected this year, was found to have lost more than Sh7.2 million. Managers of the co-operative have since been surcharged, Ityeng said.
Daniel Marube, the CEO of the Cooperatives Alliance of Kenya, acknowledged that there have been significant challenges in the co-operative movement.