Rival varsity groups trade blame in Mombasa campus as tense student polls approach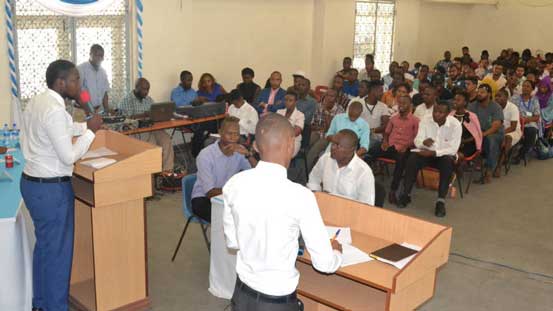 MOMBASA, KENYA: Rival groups at the Mombasa campus of the University of Nairobi have traded blame and accusations at a public debate ahead of tomorrow's student union polls.
On Wednesday, rights group Human Rights Agenda and the university administration arranged the first moderated public debate between candidates from two groups vying to take control of the student union. Noisy supporters from either group booed or interrupted their rival and hailed their leaders.
The campus' estimated 1,000 students are bitterly split between two competing groups-Greenergy Alliance and Pentagon who are contesting the college's first election under the newly launched University of Nairobi Student Union UNSA.
The Pentagon group is led by Finance student Dan Kenga who wants to be UNSA chairman and Stewart Oyoyo, a law student who wants to be secretary general. The key leader in the Greenergy Alliance is Amos Kimanzi, a journalism student who wants to be union secretary general and Doll Osman who studies commerce and is vying to become Vice chairman.
Kenga's and Kimanzi's past records at the university were placed in sharp focus by panelists and the audience who questioned their suitability for office under the new dispensation.
"My record speaks for itself," retorted Kenga when his past record in the dissolved Student Organisation of Nairobi University SONU was questioned. He parried claims that he had not addressed students' welfare, especially on the matter of bursaries when he served in the defunct SONU congress. Kenga said he fought for student welfare and fostered working relations between students and the administration and claimed credit for many amenities at the college.
Kenga said he has the experience and required temperament to foster fruitful communication between the administration and the student body.
Kimanzi came under scrutiny over his past involvement with the Miss and Mr UoN peagants with some students accusing him of bias in his past role as judge in these events.
"The pageant has three judges and I was one of them so it is not possible to be biased when three people are making a decision," he said and admitted that he played a key role in bringing the pageant to the campus and officiating as judge.
Each of the groups claims to be independent and free from outside influence and ties with the campus management. But they are united in the condemnation of poor services at the university colleges and want the administration to improve and expand the campus hospital and equip it with a laboratory and diagnostic equipment. They also seek greater accessibility of the administration, bursaries, cafeteria and financial aid to needy students and end to victimisation of students.
But either group has tried to depict the other as corrupt, incompetent and in bed with forces opposed to students' interests. Kimanzi tried to depict the Pentagon group as a group that has been in power before with little to show for it.
Kenga's group on the other hand tried to depict the Kimanzi group as one compromised by special interests including business groups. Kimanzi, instead described himself as an astute businessman who has succeeded through aid, lobbying and networking.
Kenga accused Kimanzi of rousing unrealistic expectations among students through impractical promises.
"I am not going to come here and give you impractical promises. We have a modest agenda that is practical and capable of being implemented," said Kenga who also said union leaders should first be loyal to the students and nobody else.
Kimanzi fired back that his side comprises "people who are clean, virtuous and untainted when it comes to standards."
Both groups demand a new policy to improve poor students access to bursaries, medicare, social amenities and an end to arbitrary suspension and expulsion of students.